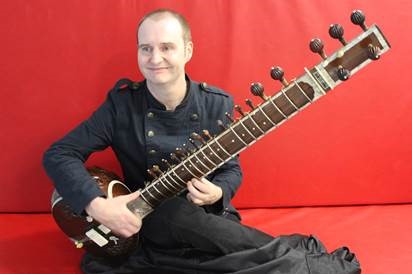 A Dundee musician who caught the ear of Paul Weller's songwriting team will be introducing his new album to fans at a record fair in the city this weekend.
Paul 'Lefty' Wright will be bringing his sitar and flute, and some band mates, to the Marryat Hall on Sunday.
The performance will mark the official launch of his new album, titled Music from an Eastern Western, with the outfit 3rd Eye Flute Band.
The Marryat Hall record fairs have been running for longer than at any other venue in Scotland. Paul will be setting up in association with city record shop Groucho's in the hall.
The musician was recently asked to contribute flute parts to new songs by Paul Weller, having only picked up the instrument for the first time three years ago.
He has already recorded two tracks for the former Jam frontman, and is hopeful the songs will be included on the upcoming album.
"I have my fingers crossed," Paul said. "I'll still get paid, but it will be a buzz to appear on a Paul Weller record."
Paul is a multi-instrumentalist who has studied sitar and Raga music in India and the new album is a blend of eastern and western styles.
The idea is part of a larger ambition to bring eastern music closer to home. He hopes to secure funding from Creative Scotland to allow him to teach people about Indian music and instruments.
Paul added: "It's exciting to launch the new album at the record fair. One of the organisers suggested taking instruments so we'll be playing the album.
"I don't think anything like this has been done at the record fair before. I'm happy that we can get to show off the album in this way. I'm looking forward to playing it there.
"The album is a mixture of east and west music. I've not really played Indian classical music in my stuff over here before, but now I'm including it.
"The first run was for 300 records and we've already sold 160 in the pre-sale, so hopefully there will be enough interest for a second run."
Paul has also played with The Beautiful South and Alabama Three.