It was the day rock giants Oasis played a pub gig in Dundee after selling just 17 advance tickets.
The show – 25 years ago at Dundee's Lucifer's Mill – came just four months before the band released Definitely Maybe which became the UK's fastest-selling debut album of all time.
However, Oasis left their mark on the Dundee venue in more ways than one – singer Liam Gallagher and bass player Paul "Guigsy" McGuigan etched their names in the old dressing room along with Manchester City graffiti.
The gig itself was just as memorable, despite the lack of fans, with Liam his usual snarling and swaggering self as he blasted out hits from the now legendary album including Rock n' Roll Star, Live Forever, Supersonic and Slide Away – all for an entry price of £3.
Looking back at the anniversary, the band's original drummer Tony McCarroll told The Courier: "I have absolutely no memory of the graffiti but it doesn't surprise me in the slightest – it was probably Liam.
"The first tours were to smaller crowds, giving us a bit of experience on the road.
"I have memories of doing the smaller circuit sometimes to only two people then repeating a year later to a few hundred locked out.
"It escalated very fast as people learned how good this band was.
"We worked each territory from the ground up and the word spread fast.
"When it came to a performance we were well-rehearsed and a very tight unit.
"No matter if only two were in the crowd, we would never give a half-hearted set to a paying punter."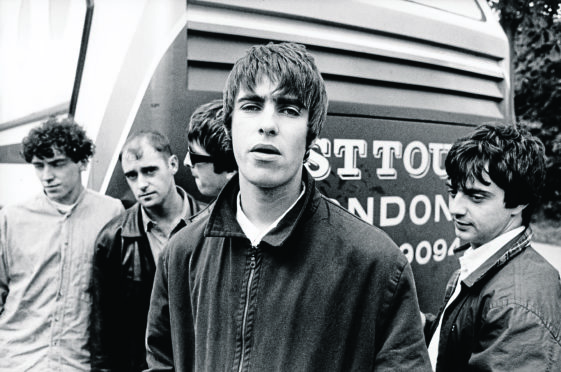 Lucifer's Mill – which could hold around 250 people – was the perfect size at the time for touring bands who were not quite ready to hit the big halls and arenas.
Groucho's record shop in Dundee only sold 17 advance briefs for the gig and just a few dozen more turned up for the Tuesday night gig.
But just two years later hundreds of people queued overnight to buy tickets for the band's two shows at Loch Lomond, which attracted 80,000.
Oasis would play to 250,000 fans in Knebworth one week later, the largest outdoor gig in UK history at the time.
"As with Ireland the Scottish were always very welcoming and a warm crowd to play to," said Tony.
"They were completely up for a party whilst taking you under their wing."
Tony is currently doing a speaking tour of the UK and Ireland to mark the 25th anniversary of Definitely Maybe and said the reaction has left him "totally overwhelmed".
Worked in Lucifer's Mill in 2003, they'd left Man City graffiti in one of the back rooms with the '94 gig date. Probably still there now.

— John Mahood (@Jsamahood) February 1, 2018
John Mahood worked at the long-lost Dundee venue when he was a student and said the graffiti was rediscovered in 2003.
He said: "If I recall correctly it was Man City related and Liam and Guigsy had also etched their names in the old dressing room."
Former Groucho's staff member Graeme Ogston, now a BBC Scotland journalist, said the only contemporary gig he could compare it to was Snow Patrol's performance in front of about 20 people at On Air East in Ward Road the early 2000s.
Graeme, who DJ'd at the show, said the band tried to encourage the audience out of the shadows and approach the stage.
"It was the first time they'd played Dundee in ages and given they'd formed there, I think they thought a lot more people would be there to see them," he said.
"They weren't too happy about it, but it was a really good show for the people who bothered to turn up."
Oasis holds the Guinness World Record for the most successful act in the UK between the years 1995 and 2005, spending 765 weeks in the top 75 singles and albums charts.
Bust-ups and walk-outs
Oasis were originally called The Rain.
The band formed in Manchester in 1991 with the line-up of Liam Gallagher as frontman, Paul "Bonehead" Arthurs on guitar, Paul "Guigsy" McGuigan on bass, and Tony McCarroll on drums.
Liam's brother Noel joined shortly afterwards on guitar, vocals and as chief songwriter.
Liam's brother Noel quit the band while touring Definitely Maybe, citing an incident in which Liam struck him with a tambourine on stage.
It was to be the first of many bust-ups and walk-outs in the band.
Tony McCarroll was sacked and replaced by Alan White in 1995 just as the group were embarking on the most successful phase of their career.
Oasis hit the peak of its fame in 1996, a year after (What's the Story) Morning Glory? vaulted the group to superstardom.
The band released their third album, Be Here Now in 1997, which became the fastest selling album in UK chart history.
Bonehead and Guigsy left the band before the release of their fourth studio album in 1999 and were replaced by guitarist Gem Archer and bass player Andy Bell.
Oasis had eight UK number-one singles and eight UK number-one albums.
The group eventually split in 2009 after Noel quit following a bust-up with Liam in France.
---