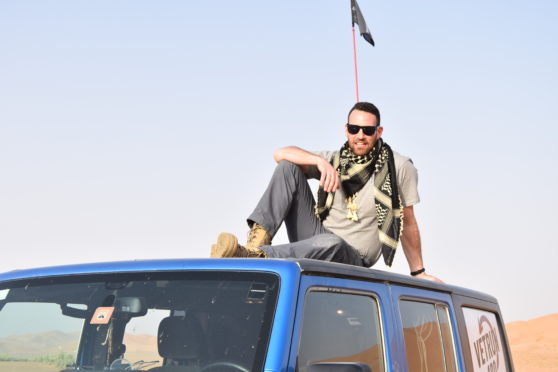 A former soldier from Dundee has become one of a select band of people to cross one of the remotest landscapes on Earth.
John Clark was part of a 17-man expeditionary team, made up of ex-military veterans with disabilities or suffering from post traumatic stress disorder (PTSD) symptoms, who conquered Oman's Empty Quarter.
They traversed hundreds of miles of desert over massive sand dunes, some which reached 400 feet high, in off-road vehicles near the border with Saudi Arabia.
John, a father of four, and his companions were following in the footsteps of the famous British explorer Wilfred Thesiger, who made the trip on camels with a 50-strong support team of desert tribesmen just after the Second World War.
Thesiger took two months to complete the journey while the modern day team did it in less than a week.
The recent adventure was organised by VetRun180, which is run by two former Royal Marines, Matt Bispham and Matt Abbott, who take veterans struggling with physical or psychological injuries on adventures worldwide for free.
John was in the Army for nearly 12 years, serving in 1 Scots (the Royal Scots Borderers), the Royal Regiment of Scotland, with tours in Iraq and Afghanistan.
He was medically discharged in 2012 and has been battling PTSD symptoms ever since.
He saw the Oman trip as a chance to kick-start his life.
He said: "It was great fun, belting up and down the dunes, but for me, the biggest thing I will take away from it is that I now have people to speak to, who totally understand what I have been through.
"I was isolated before. My civvy mates could not relate to what I had experienced. But in the desert we just started talking about things and sharing what we had suffered.
"All of us had similar problems, similar conditions.
"After a few days the guys just knew what they had to do and just cracked on, and it was just fun like that."
"I was able to use all my mechanics skills to rescue vehicles and keep the expedition on track, and that made me feel useful.
"They also asked me to join other expeditions in the future."
Matt Abbott said John and the team should be proud of what they had accomplished.
"We covered 700 miles of desert faster than we expected," he said.
"These were some of the biggest dunes in the world and it is a testament to the resourcefulness of the veterans that we made it.
"We were frequently stuck and there was only us to get ourselves out. We were in the middle of the desert all alone."