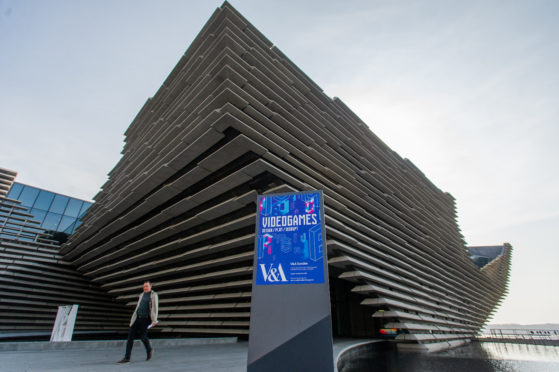 The long-awaited opening of V&A Dundee helped deliver a record breaking year for tourism in the city.
Figures released on Monday show tourism contributed £187 million to the Dundee economy in 2018, up £16 million from the previous year.
Tourism bosses said an 8.7% increase means visitors are spending more than ever before in the city, and that the economic target set out in the Dundee Tourism Strategy for 2020 has already been exceeded.
The research also identified significant growth in number of overnight stays recorded and the total number of visitors to the City of Discovery.
The expenditure and activity of visitors to Dundee in 2018 supported a total of 3,033 Full-Time Equivalent jobs (FTEs), an increase of 8.6% on the previous year and 19.2% since 2010.
Councillor Lynne Short, convener of Dundee City Council's city development committee, said: "Targets are set to be met and broken and having done so two years ahead of time is a great achievement.
"It is a testament to the way that Dundee has been put firmly on the tourism map and I am convinced there is more to come.
"Unlike some other destinations, we are a 365-days-a-year city. Our attractions and venues are open for business all year round, and there is always something for visitors to see and do."
The research, carried out for Dundee City Council by Global Tourism Solutions, showed total day visitor numbers increased 34%, from 412,520 in 2017 to 558,100 last year.
The figure for overnight visits was also up, from 467,900 to 491,900 – and is on track to hit the 2020 target in the Tourism Strategy.
Councillor Short added: "This research is further evidence of the positive picture emerging around growing tourism for the benefit of the city.
"We've already seen V&A Dundee hit the 500,000 visitor mark six months early, and other major attractions such as Discovery Point record huge increases in people through the doors.
"The council and its partners are working hard to develop our marketing, tailor our offering and provide a fantastic experience to ensure that people keep coming back and new visitors choose Dundee for their next break."
Philip Long, director of V&A Dundee, said: "These new figures are really very impressive and highlight that a growing number of people are realising what a wonderful city and region this is to visit.
"Like other attractions here, everyone at V&A Dundee is working hard to ensure visitors get the most out of their trip to Dundee and Tayside and are encouraged to return time and time again.
"We recently opened our second exhibition, the extraordinary show Videogames: Design/Play/Disrupt and are delighted that the amazing experience it offers has attracted so many already."
Kim Adamson, of Dundee Tourism Action Strategy Group, also welcomed the findings of the research.
She said: "It's great to see that the 2020 targets set out in the Tourism Strategy are on track and even being exceeded.
"We are continuing to work hard to maximise the benefits to the city that tourism offers. Key priorities over the next couple of years include developing information for visitors and businesses and maintaining and continuing to build on the positive image and perception of the city.
"We'll also be seeking to develop visitor packages and taking action to encourage people to stay in the city for longer."
V&A Dundee opened in September last year and more than 500,000 people have already visited the £80 million building, which was designed by world-renowned Japanese architect Kengo Kuma.
In recent months, Dundee has been named the must-visit Scottish destination by countless travel writers, publications and websites.
Accolades include being named among the coolest places in the world to visit this year by National Geographic Traveller UK, and featuring in Condé Nast Traveller UK's 10 Best UK City Breaks for 2019.