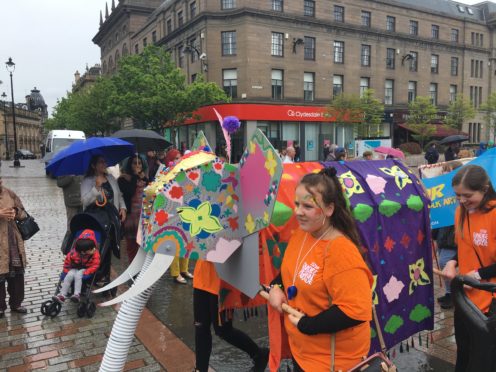 A dreich Saturday was brightened up as hundreds of people took part in the Dundee Design Parade through the city centre.
The event was organised by UNESCO City of Design Dundee as part of the city's Design Festival.
People aged between five and 26 teams up with artists and designers to represent UNESCO creative cities on the parade.
Around 20 different organisations took part int eh parade, which set off from the City Square just before 3pm before heading down Reform Street to the McManus before heading back to the City Square via Murraygate.
Community groups and schools including Link Up Whitfield, Educated Dance Academy, Yusuf Youth Group, Dundee Sea Cadets, Blackness and Rosebank Primary all took part.
The Corner worked with designer Brian Proudfoot to create a giant elephant inspired by Jaipur, UNESCO City of Crafts and Folk Art's annual Elephant Festival.
Leigh Glemnie from The Corner said: "Being involved in Dundee Design Parade has been a great way for young people to be as creative as they can, meet new friends which has been one of the best things to come out of this experience, work together to make such a brilliant design and show off what they have created on the day of the Parade.
"Young people have been involved in co-designing this from the very start; they have decided which city they want to do and discussed in groups what they would like their designs to look like."
Once the parade returned to the City Square each group presented their design on stage.
This year's Dundee Design Festival is taking place in the Keiller Centre and runs until Tuesday.
Artists have taken over units in the shopping centre.
Dundee was warded UNESCO City of Design status in 2015 – the only UK city to receive the accolade – and is now part of a global family of 31 design cities as diverse as Berlin, Detroit and Shenzhen.