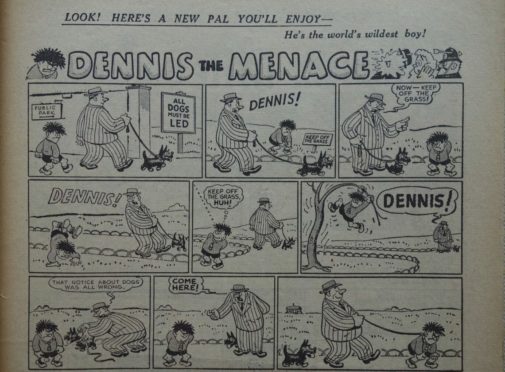 A rare copy of the Beano featuring the first appearance of Dennis the Menace has gone up for auction.
The 68-year-old comic dated March 17 1951 is being sold on eBay by comics dealer Phil Shrimpton.
However, prospective buyers will have to stump up at least £300 for the privilege of owning a piece of printed history.
The comic, described as being in very good condition, has already attracted a bid of £299.99.
Dennis was an immediate hit with Beano readers when he first appeared in the half-page strip in issue 452.
However, the character, created by David Law and described as "the world's wildest boy" did not appear fully-formed.
The tearaway's spiky hair was in place but he did not obtain his trademark spiky jumper until May that year and he would have to wait until 1968 for the arrival of his best friend Gnasher.
His introduction saw sales of the DC Thomson comic soar and he replaced Biffo the Bear on the cover in 1974 and has been a fixture ever since.
As well as starring in the Beano, the character's popularity has seen him star in a series of popular cartoons.
Mr Shrimpton said the edition featuring Dennis' introduction to readers was one of the most in-demand comics in Britain, even if the strip itself was not as anarchic as it would become.
He wrote: "One of the most sought-after Beano comics as Dennis the Menace, pre-red and black striped jumper, arrived in the comic in a rather tame first strip."
Last year the comics dealer made more than £21,000 when he sold rare first issues of both the Beano and the Dandy.
He received £16,000 for the first issue of the Beano, published in 1938, and £5,500 for the Dandy's first issue, which was published a year earlier.
There are only thought to be 25 copies of the Beano's first edition still in existence.
The most paid for a copy of the first issue was £17,100 at auction in 2015.
The Beano cost just two pence when it was first published almost 80 years ago and featured ostrich Big Eggo on the front.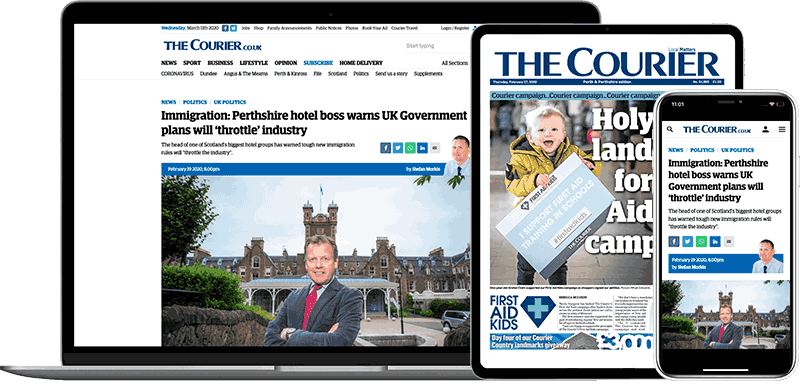 Help support quality local journalism … become a digital subscriber to The Courier
For as little as £5.99 a month you can access all of our content, including Premium articles.
Subscribe