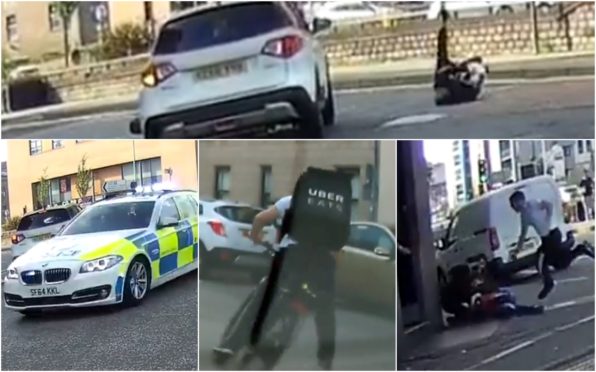 The moment members of the public stepped in to help police apprehend a motorcyclist in Dundee has been captured in a dramatic video that has gone viral online.
The dashcam video, which is understood to have been filmed at the junction of West Port and South Tay Street last month, shows a man jumping from a moving motorbike and crashing to the ground before sprinting off.
A police car then appears and a separate view shows officers trying to catch the man in Cross Lane.
However, he starts to run back towards West Port.
It is at that point that two brave members of the public step in.
An Uber delivery cyclist is seen chasing the man but the suspect is eventually brought to ground by a man who rugby tackles him outside the doorway of the West House pub.
The cyclist and police then help to subdue the man, before he is taken away by officers.
The video was shared to the Emergency Services News Facebook page and has been viewed over 300,000 times, with many commenters praising the actions of the have-a-go-heroes and police officers.
A spokesman for Police Scotland said: 'Officers in Dundee attempted to stop an orange Yamaha motorcycle near the West Port roundabout … A 23-year-old man was subsequently arrested in the South Tay Street area and has been charged in connection with road traffic offences. A report was submitted to the Procurator Fiscal."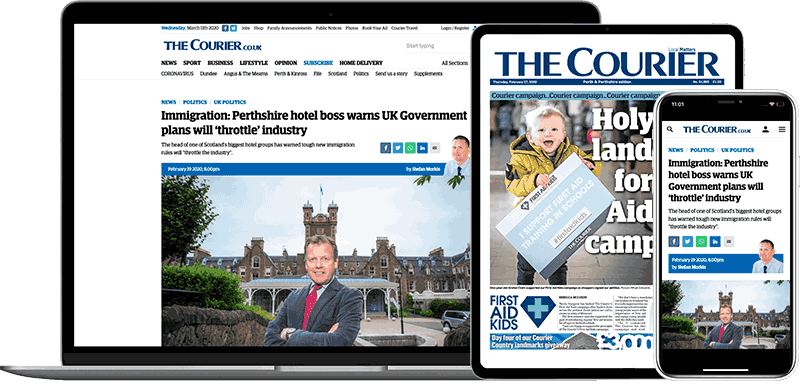 Help support quality local journalism … become a digital subscriber to The Courier
For as little as £5.99 a month you can access all of our content, including Premium articles.
Subscribe