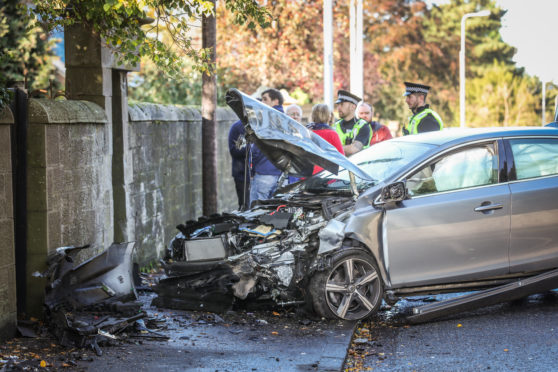 A self-employed painter and decorator had a lucky escape yesterday morning after a car smashed into the back of his van — just seconds after he had left it to visit his mum.
David Hutchison, 46, parked his van outside his mum's house on Perth Road for a coffee before starting his day.
But as he got into the house he heard a loud bang and rushed back to find a car crashed into the wall and his van about 20ft further down the road from where he parked.
The driver of the car was unhurt but declined to comment.
David is now left trying to get a hire van in order to continue working.
"I'm self employed, so if I don't work I don't get paid," he said.
"The van is a total write off, so I'm going to have to do something like find a hire van to keep on working."
David was shocked at how far his van had travelled after the collision.
"The car must have lifted my van off the road for it to go that far as the handbrake was on.
"It's quite a shock. If I was standing there for 15 seconds more I could have been hit and lost my legs, or even worse.
"The damage to the car and my van is really bad so it's lucky there were no pedestrians around. It's a busy bit of road as well.
"My van was on the other side of the road and half parked on the pavement so it wasn't taking up too much space on the road, so he's had to cross the road and mount the pavement himself to hit my van where he did.
"I'm not sure how that happened.
"I've been told the driver is insured, so it could be worse."
Debris from both vehicles was scattered across the area.
A fire crew had to move the car slightly as it had jammed into a door frame of a garden wall, causing some damage to the structure.
The fire officers also helped the driver out of his car.
Police also rushed to the scene after receiving a call at 8.50am. The road was not closed, but passing cars did have to slow down as the approached the scene and made their way towards the middle of the road to avoid the wreckage.