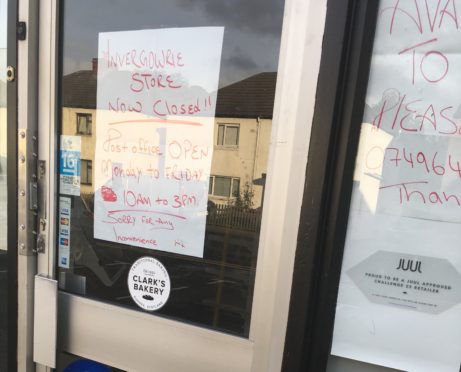 The sudden closure of a shop in Invergowrie has cost the village its post office.
Locals were shocked to find the Premier newsagents on Main Street suddenly closed last week.
It is understood the decision was made as the store was not busy enough. Many shelves are now bare and although the post office remains open until next week, it will shut its doors for the last time in its current home on October 17.
Carse of Gowrie councillor Alasdair Bailey was "surprised" to hear about the closure and raised concerns about banking provision in the village.
He said: "I have contacted the Post Office to ask whether there is anything I can do to help with the situation as an elected member.
"Hopefully a new operator comes forward soon and is willing and able to take the service on in order to avoid people needing to travel out of the village to access their bank accounts and postal services."
A Post Office spokesman said: "Following the resignation of the postmaster and withdrawal of premises for Post Office use, Invergowrie Post Office will temporarily close on October 17.
"Unfortunately, from time to time, Post Office branches do temporarily close for reasons beyond our control.
"The majority of our branches are run by independent retailers, meaning we are not the owners of the premises and regrettably, we are often unable to immediately reopen the branch ourselves.
"We always want to maintain services and understand how important a post office can be to a community. We would like to apologise to customers for any inconvenience caused and reassure them that we will do all we can to restore services as soon as possible.
"Following the closure, services will be available at any other convenient branch, including Glamis Road and Charleston."
The spokesman added that any retailer or small business interested in running a post office can contact them on 0333 345 5560.
A previous decision to cut the opening hours of the facility was labelled "not good enough" by Carse of Gowrie councillor Angus Forbes.
Nearby Scotmid was targeted by vandals twice in the space of a week in 2017, smashing the front windows. Local residents were shocked again less than a year later when a similar incident occurred, with reports of a knife robbery.