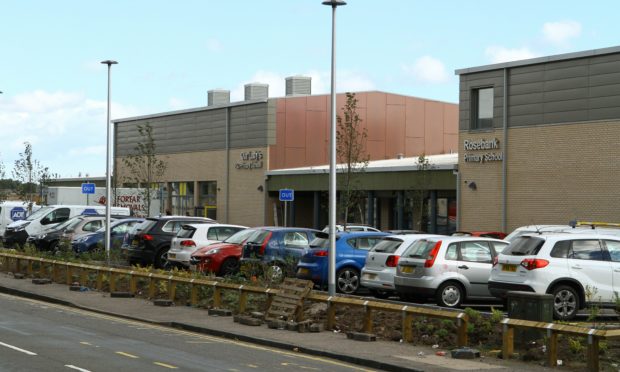 Taxis have been used to ferry school dinners between two parts of the same school building in Dundee, it has been claimed.
Meals prepared in the production kitchen of the new Coldside Campus in the Hilltown have been driven by taxi to the Frances Wright Nursery, which is part of the same building.
One taxi driver said he had been asked to carry trays of meals to his vehicle before driving them from the kitchen on Alexander Street round the corner to the nursery entrance on Ann Street.
He said drivers had been told it was necessary to hire taxis because a lift in the building was broken.
However, a spokeswoman for Tayside Contracts said staff would ordinarily transfer meals by pushing them on a trolley.
The driver, who asked not to be named but showed The Courier logbooks detailing the journeys, said he was called to the kitchen shortly after the start of the new academic year.
He said he was asked to carry the meals to his vehicle and then drive them to the nursery – a fare which came to £6.
He said: "I've had to do the run myself twice this year.
"The reason I was told is that because the lift was broken the staff are not allowed to carry the food from one part of the building to the other.
"It's only something like a 30-second walk but the fare can cost up to £6.
"The building is on a split level so the nursery in Ann Street, which is downhill from the kitchen.
"Tayside Contracts has cut back a lot on taxis but they do still use them."
A Tayside Contracts spokeswoman said it would be unusual for a taxi to be used to ferry food from one part of the building to another.
She said: "I can't comment on this incident but normally staff would use trolleys to move boxes of meals."
She added that meals taken to other schools from the kitchen are transported by Tayside Contracts' own vehicles.
The taxi driver spoke out about the campus' meals on wheels after it emerged the cost of ferrying pupils to neighbouring schools in Dundee had doubled from £14,000 in 2017-18 to £30,000 in 2018-19.
Pupils are often transported to another school for lessons that are not available in their own schools.
The Coldside Campus contains two primary schools –  Our Lady's Primary and  Rosebank Primary – and the Frances Wright Pre-School.
The £16 million building was opened in August 2018.