Met all of Dundee's big Wullies yet?
Unless you've been living under a rock, you'll know all about the Oor Wullie Big Bucket Trail that's taking Scotland's cities by storm this summer.
The trail launched on June 17 and runs for 11 weeks with scores of mischievous characters popping up in streets, parks, and even on hilltops across the country.
A total of 36 colourful statues are displayed in and around Dundee, with Oor Wullies also appearing in Perth and St Andrews as part of the world's first nationwide public art trail that spans more than 700 miles.
Jings, crivens, help ma boab – it's Oor Wullie's BIG Bucket Trail!
VIDEO: 'I'm still here, I'm still smiling' – Scottish rugby legend in special Dundee visit to see amazing 'Oor Doddie'
Across Scotland, there are 200 sculptures, in Dundee, Edinburgh, Glasgow, Aberdeen and Inverness.
But jings, crivens and help ma boab, a further 350 mini statues have been decorated by local schools, youths and community groups.
Thirty of these are on display in Courier Country, with 24 local schools and six community and youth groups having created the unique designs.
These can be found in libraries and community centres and a couple of other sneaky spots.
While the big Tayside and Fife Wullies will be auctioned off at Dundee Rep on September 16 to raise money for the Archie Foundation, the official charity of the Tayside Children's Hospital at Ninewells, the mini Wullies will return to the schools and groups that created them following a farewell gathering at Slessor Gardens on September 14 and 15.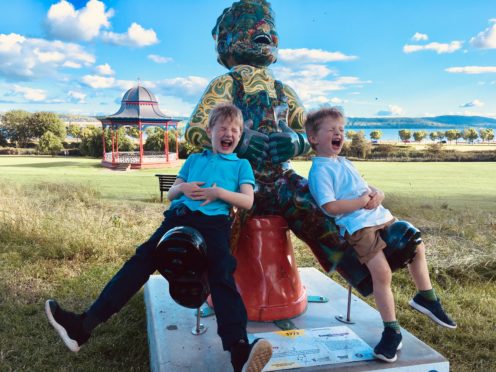 The man coordinating the initiative is national project manager Neil Cooney.
Neil was also education coordinator for last year's Maggie's Penguin Parade, and project manager of the 2016 Dundee-based Oor Wullie Bucket Trail, with funds raised for the Archie Foundation.
"The mini Wullies complement and add value to the main trail, by showcasing the creativity of Dundee's youngest citizens who designed and decorated them," he said.
Each miniature Wullie was accompanied by an education pack focusing on the Scots language.
"As Oor Wullie speaks using Scots, schools were able to look at Scots and celebrate the rich variety it offers," explained Neil.
"Across Scotland, more than 10,000 children engaged in the education campaign. After all, the Big Bucket Trail is a campaign for Scotland's young people involving Scotland's favourite son!"
As well as learning Scots words, young folk recorded songs, poems and stories in Scots and animated the Oor Wullie comic strip using the language.
The education pack also came with an anti-bullying message based on Oor Wullie and his friends defending each other.
"The Trail is designed to a be a feast for the imagination, the opportunity to get children and young people enthusiastic about arts and crafts, as well as engaging them in important topics of conversation like Scots language, health and wellbeing and raising money to help support others," added Neil.
Of the 30 mini sculptures, 28 are from the education programme while two designs are winners of a regional Citylink competition in schools and are also painted on the side of coaches, so keep your eyes peeled!
One of these is in Dundee Bus Station. It's called Bonnie Dundee and the design was created by Muhammed Sharjeel Adeel from Victoria Park Primary.
Muhammad took his inspiration from the geography of Dundee and its landmarks including the Tay bridges, the Law monument and other iconic buildings.
The other, which is in the Oor Wullie Big Bucket Trail shop, is called The Pride of Scotland by Chloe Weir of Tayview Primary School. It's designed to show a "very Scottish feel".
Other designs were inspired by everything from brain injuries, a lighthouse keeper, Dundee Sea Cadets, the concept of inclusivity, the celebration of a school's 10th birthday, and a school's badge.
Judy Dobbie, head of library and information services at Leisure & Culture Dundee, said: "There's a real buzz in libraries across the city with the mini Oor Wullie sculptures.
"Libraries are right at the heart of our communities so it's really easy for everyone to pop in and visit a sculpture created by local schoolchildren right on their doorstep.
"It's also a chance for anyone who's not visited us for a while to see the range of facilities we have on offer from latest books to free internet and wifi."
The Big Bucket Trail is run in partnership with five organisations: The Archie Foundation, DC Thomson Media, Wild in Art, Edinburgh Children's Hospital Charity and Glasgow Children's Hospital Charity.
The 36 Tayside and Fife full-scale sculptures appear at a farewell gathering at Dundee's Slessor Gardens. They will be auctioned off the next day at Dundee Rep.
Each model has been individually decorated by artists. Some display wacky and intricate designs while others are beautiful works of art in their own right. As you go round the trail, watch out – some of the buckets will give you a big surprise when you sit on them!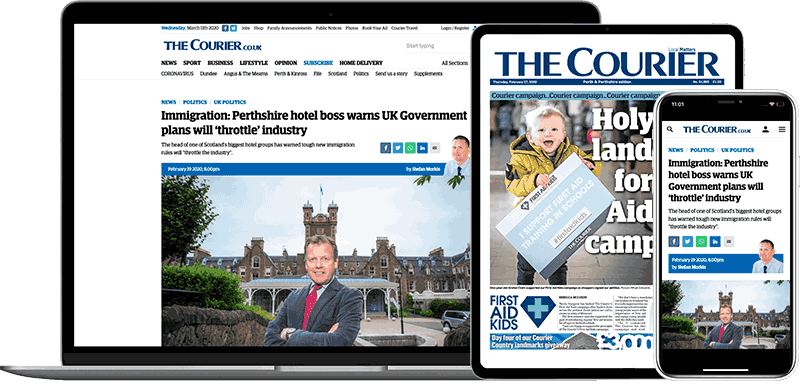 Help support quality local journalism … become a digital subscriber to The Courier
For as little as £5.99 a month you can access all of our content, including Premium articles.
Subscribe