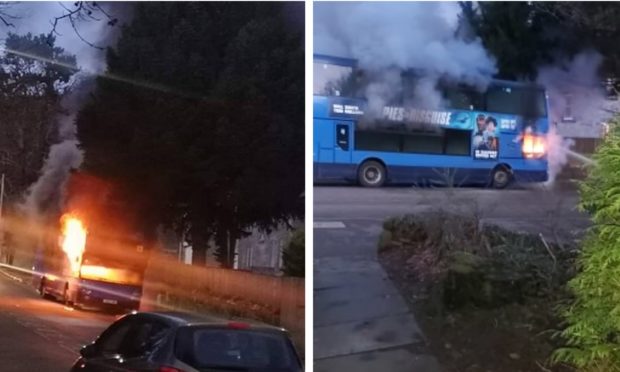 A Fife driver is being hailed a hero after his quick thinking prevented a tragedy when fire broke out on a school bus.
Fire crews rushed to the scene after a member of the public raised the alarm that a bus was on fire close to Queen Ann High School in Dunfermline shortly before 4pm yesterday afternoon.
Police closed the A823 road for a short time to enable firefighters to tackle the blaze – which threw clouds of thick black smoke into the sky.
However, the quick actions of the bus driver have been credited with keeping anyone from being seriously injured after he stopped the vehicle close to a side road and ushered off the passengers.
One of those charged with recovering the bus in the aftermath of the emergency said the fire was due to an electrical fault in a control panel behind the driver's head.
He added: "The fire took hold in the driver's cabin area.
Firefighters called after double-decker bus goes up in flames outside Fife school
"It looks like it was the quick thinking of the driver that averted a potentially much more serious situation.
"Stopping the bus adjacent to a side road – and the only safe stretch for a good distance along the road – allowed the children and the driver to evacuate and get well away from the vehicle.
"The youngsters must also be commended in the way in which they did exactly as they were told and exited the bus in a quick and orderly way."
One eyewitness who saw the blaze said: "At first I thought the bus had broken down but then I saw the thick black smoke and could smell the burning plastic.
"Then I got sight of the passengers moving away from the bus.
"The driver's cabin seemed to be well alight.
"It's lucky everyone got off the bus safely – it must have been frightening."
A spokeswoman for Scottish Fire and Rescue Service said: "We got the call at 3.57pm that a double-decker bus was well alight outside Queen Ann High School in Dunfermline.
"Two appliances were mobilised from the Dunfermline station nearby to put out the fire which was achieved soon after.
"The stop message came back at 4.30pm."
No one was injured in the incident.
The road was reopened by police at around 5pm as a recovery team set about making the badly damaged vehicle safe ready for towing away.