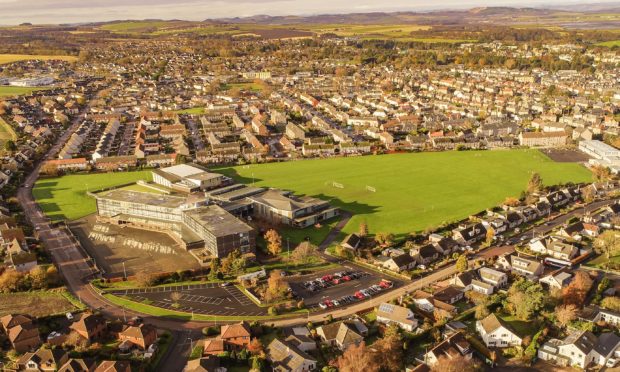 Madras College's Kilrymont campus has been put up for sale as the replacement school is built.
The marketing of the B-listed building in Kilrymont Road is being described as a rare opportunity to acquire a significant development site in a residential area of St Andrews.
Agent Shepherds Chartered Surveyors is seeking offers ahead of setting a closing date for the sale.
It is expected the site will be available for development in August 2021.
Construction of the £50 million new Madras College at Langlands began in September. It is expected pupils will move in during the summer of 2021.
Ownership of the school's South Street building was transferred to St Andrews University in an exchange deal with Fife Council.
The sale of the 15.5 acre site at Kilrymont includes the 1960s school buildings, sports hall, car parking, playing fields and amenity space.
Fife Council previously indicated it wanted to advertise the site for sale as quickly as possible to test the market and give a purchaser time to work on an acceptable proposal.
However, the building's listed status may make it less attractive to potential buyers, since Historic Environment Scotland will have be consulted on redevelopment plans and demolition will be discouraged.
The council said development of the listed buildings for affordable housing was not likely to be considered viable but it may be possible to secure council housing on part of the site.
Jonathan Reid, a partner in Shepherd's Dundee office, said: "This site is identified in the Fife Local Development Plan for educational purposes, reflecting its current use.
"Its northern boundary may vary depending upon final layout of development and accommodation of existing pitches for Greyfriars Primary to the immediate north."
He said a design and development framework identifying principles for consideration in any proposal for reuse or redevelopment would be issued to interested parties.