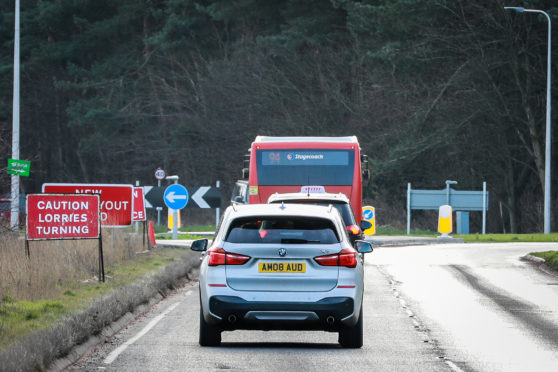 Red squirrels living around a new road being built in St Andrews may be denied the bridge which had been promised to help them over the busy highway.
A crossing was pledged for the protected mammals before work on the road to the new Madras College and St Andrews West expansion began.
Developers now want to scrap the bridge from a raft of ecological measures which had been proposed, along with badger and otter fences, bat boxes, mammal tunnels and new habitat creation.
Squirrel bridges in various forms exist elsewhere, including ropes over a road near Shieldaig in the north-west Highlands and a £120,000 metal bridge over a motorway in the Netherlands.
Rare shot of red squirrels nesting in Scottish Highlands listed among best nature photos of 2019
The consortium building the St Andrews road says a bridge would not have been effective in this case, but the town's community council claims it has put profits before wildlife.
Critics say the road cuts through an arboretum and habitat rich with wildlife including red squirrels, a species which has suffered a catastrophic population decline mainly due to competition from the non-native grey squirrel.
St Andrews West LLP has applied to vary a condition attached to its planning consent issued in April 2018 but St Andrews Community Council has objected to Fife Council in the "strongest possible" terms.
Community council planning convener Penny Uprichard said: "The decision to run the link road through the arboretum was a very bad decision, and paid absolutely no attention to the protected species living there.
"If this application to vary the protective condition regarded as necessary by the council's ecological officer is removed, once again, money and development would be given priority over  the statutory requirement that all development should be sustainable, a term which includes environmental sustainability.
"If this application was to be approved, the protection of endangered wildlife clearly comes a long way behind development-for-profit."
Scottish Natural Heritage was consulted on the proposed change and said it was satisfied with the alternative, a five-year species monitoring programme.
St Andrews West LLP, a consortium including landowners, Headon Holdings and St Andrews University, has submitted an updated species protection plan.
Its agent David Wardrop told the council: "It was agreed that the proposal squirrel bridge offered no material or effective mitigation.
"There are also issues of concern regarding visual impact and on ongoing maintenance as part of the adopted highway."
In 2016 the mayor of The Hague insisted a £120,000 squirrel bridge near the Dutch city was not a waste of money despite it only being used five times since it was built four years earlier.