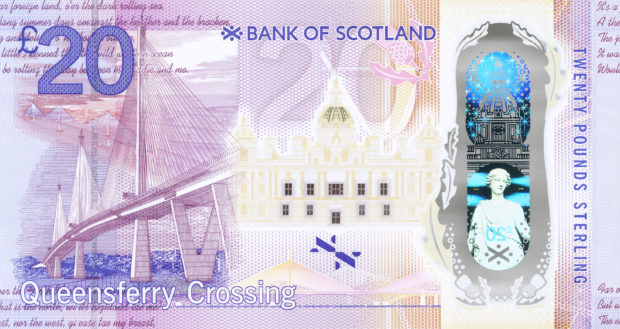 The Queensferry Crossing features on the new £20 Bank of Scotland polymer note.
Furthermore, in celebration of the longest three-tower, cable stayed bridge in the world, the Queensferry Crossing is celebrated in its own right in a limited number of special commemorative £20 notes.
Designed by De La Rue, the commemorative notes will be marked with 'QF & QC', representing the Queensferry Crossing exclusive to this design.
These are available from Bank of Scotland branches and demand is expected to be high.
Tara Foley, Bank of Scotland managing director, said: "It is important to us that any new bank note we produce proudly represents the values and history of Scotland, and our new Bank of Scotland polymer £20 note is the result of months of careful work.
"We encourage people to keep an eye out for the new design and take a moment to spot some of the new features."
Measuring 139 x 73 mm compared to the current 149 x 80mm, the notes are slightly smaller than the existing paper £20 notes in circulation.
The new size is consistent with the new £20 notes that have been issued by the Bank of England and other UK banks this year.
All existing paper Bank of Scotland £20 notes will be gradually withdrawn following the issue of the new note, but any currently in circulation will continue to be accepted at shops, banks and cash payment machines.