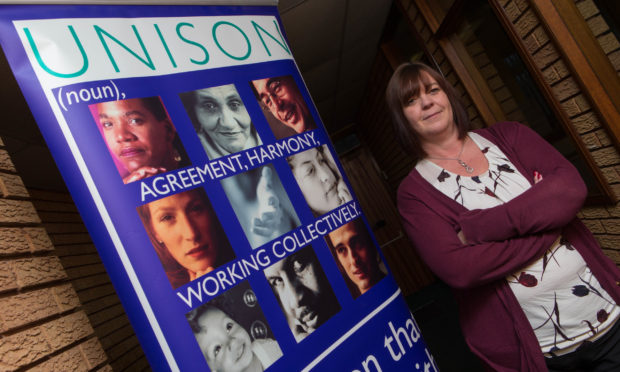 PPE stocks for Fife's social care staff are still at "bare minimum" despite huge efforts to obtain more, it has been claimed.
Deliveries of crucial safety equipment such as masks, aprons and gloves are said to be only just covering the needs of home carers and other workers in the sector and unions have advised staff not to carry out visits if they do not have the correct kit.
Unison Fife branch secretary Debbie Thompson said: "Our attitude is no PPE, no visit.
"It's not something we would like to see happen but we have had 11 deaths among health and social care workers in Scotland and no-one wants to be number 12, 13 or 14."
Fife Health and Social Care Partnership said supply of PPE was meeting demand and any shortage was being resolved within 24 hours, while the Scottish Government said there were adequate stocks across Scotland.
Ms Thompson conceded matters had improved greatly since March when she decried a "woeful" lack of PPE for home care staff, but insisted there are some ongoing concerns.
"The problem now is the level of stock we're getting from NSS (National Services Scotland).
"Last week we got 200,000 pieces of PPE and by the time it was distributed to our own staff, the voluntary sector and the independent sector there were only something like 5,000 pieces left.
"That sounds like a lot but we do 2,500 visits per week in-house alone and the equipment is single use.
"There is a concern that the level of stock we are getting is just enough to cover what we need and it's something I have raised at all meetings I'm at with politicians and the health and social care management team."
She added: "If you look at what's happening in the care home sector it's a frightening thought."
Nicky Connor Director of Fife Health and Social Care Partnership said PPE is being purchased through the normal supply routes and more is available through a hub established to distribute equipment to staff.
"If the PPE hub is unable to fulfil any PPE requests the care provider would be directed to contact the NSS Support Service who would issue an emergency supply within 24 hours.
"Feedback from care providers is positive and they are reporting that supply of PPE is meeting demand with any shortages of individual items being resolved by NSS quickly and efficiently."
A Scottish Government spokesperson said: "We are not aware of any specific issues with the PPE hub in Fife, nor a shortfall in stock there.
"If any shortfall in stock does occur, for example if there is a spike in covid-19 cases in a specific area, there is an urgent order process via the NSS social care PPE triage helpline to ensure the necessary quantity of stock.
"In Scotland, we currently have adequate stock of all forms of PPE supplies for the current level of demand."