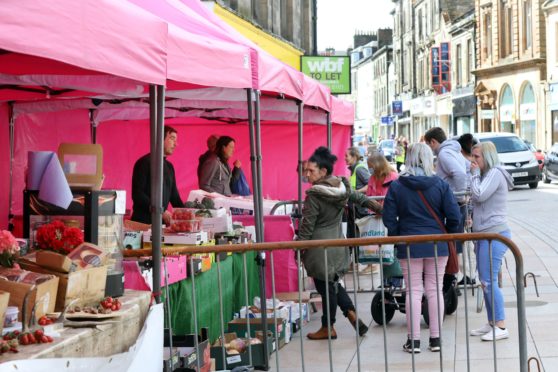 A Fife MP is urging the public to shop local and re-energise the ailing high streets in town's like Kirkcaldy as coronavirus restrictions continue to be eased.
Kirkcaldy and Cowdenbeath SNP MP Neale Hanvey is calling on Fifers to use local independent retailers to help recharge the Fife economy.
His call comes just days after the Scottish Government launched the Scotland Loves Local campaign, an initiative designed to encourage everyone in Scotland to think local first and support their local town centres and high streets.
Mr Hanvey has made no secret of his desire to see a revival of fortunes in Kirkcaldy's town centre, which has suffered in recent times with a string of big name retailers pulling out or closing down stores.
Marks and Spencer, Debenhams, BHS and Tesco have all closed stores in the Lang Toun in recent years, while only last month, Clarks, Jewellers H Samuel and fashion outlet Quiz were the latest retailers to pull out of the town
However, Mr Hanvey believes there is much potential still left in Kirkcaldy and is calling on locals to help trigger a reversal in the town's fortunes.
He said: "When you get the mix right between independent retailers, leisure, and housing, then you've got the ingredients for a modern, thriving high street,"
"And we've already got some brilliant independent shops across the Kirkcaldy and Cowdenbeath constituency – maybe even one or two that could challenge to be the best in Scotland.
"So, if you run one of these shops, you should nominate yourself for the Best Small Shops competition.
"Now is also the time for the rest of us to shop local. It's really encouraging to see that two-thirds of folk are keen to get out and support retailers in our town centres.
"But this isn't just about recovering from the pandemic, let's use recent events as an opportunity to change how we shop and from now on, let's always think local first."
A government poll last week found that 66 percent of Scots say they will prioritise shopping locally as town centres fully reopen following lockdown.
And the MP is encouraging local independent retailers to enter the Best Small Shops Competition.
The competition celebrates the successes of independent shops and the central role they play in the local community, particularly in response to Covid-19.
Shops will be judged on their entrepreneurial spirit, ways that they have been innovative in their business and what they have done to have a lasting positive impact on their community.