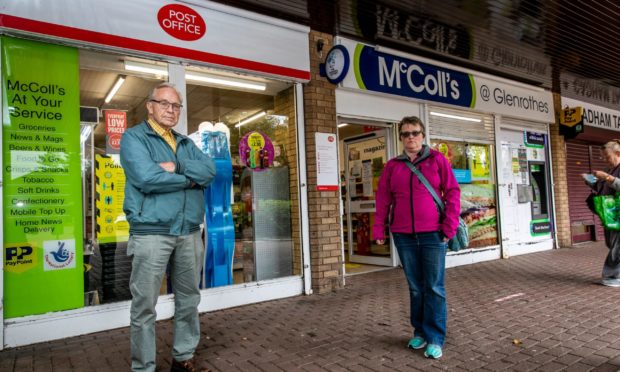 Thousands of people are losing Post Office services because of mismanagement at the top of the organisation, a Fife MP has claimed.
Peter Grant said promises of more sustainable, long-term services had proven worthless after the loss of five post offices in his Glenrothes and Central Fife constituency in the last six months.
The SNP MP has challenged the Post Office to do more to build trust and encourage people to become sub-postmasters and mistresses.
His call follows confirmation last week counters in the Pitteuchar and Cadham areas of Glenrothes will shut for good next month when RS McColl axes branches that house the service.
'Disastrous': Residents left furious at decision to close two Glenrothes Post Office branches
The move has been branded disastrous for the two communities and follows similar closures in Methil, Markinch and Leslie.
Mr Grant said the situation was a direct result of the way the Post Office manages its network.
He cited anecdotal evidence many shopkeepers felt it was not worthwhile to provide a post office service due to a lack of financial reward.
He also pointed to last year's Horizon accounting scandal, which saw postmasters wrongly accused of embezzlement and left facing prison sentences and bankruptcy.
Post Office has since paid a £57.7 million settlement after 550 people brought legal action and the UK Government has announced an independent review.
"Post Offices offer an essential service in our communities but because of mismanagement at top levels within the organisation thousands of my constituents are losing that service," Mr Grant said.
"In the last six months alone we've seen announcements that Methil, Pitteuchar and now Cadham are to close, and the so-called temporary closure of Markinch has been made permanent.
"It's not long either since Leslie post office closed without warning."
He added: "When the Post Office announced their plan to close standalone post offices even in our biggest towns, they promised it would make the service more sustainable in the long term.
"The promise is now being shown to be worthless.
"Senior management need to admit they've got their business model all wrong and it needs to be radically changed before there are no more post offices for them to close."
The UK Government said sub postmasters had received a 10% increase in subsidies this year but that changing consumer behaviour was a "significant challenge".
A spokesperson for the Post Office said: "We understand how important a post office is to a community and we will continue to work to find a solution that will provide a post office service to the communities in these areas.
"The vacancies are currently being advertised."
They also pointed to alternative branches in other areas of Glenrothes.