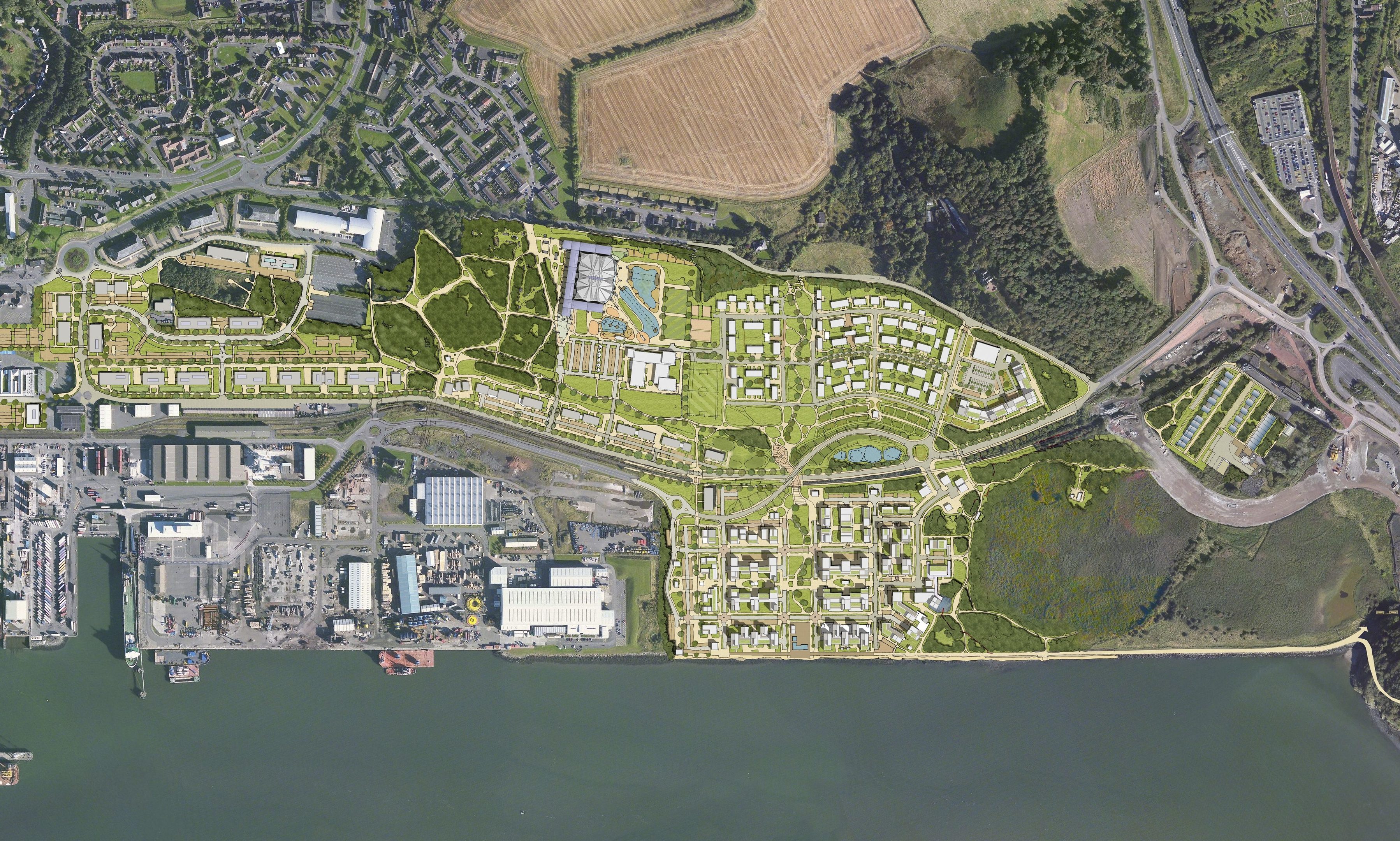 The public have had their say on the £500 million Rosyth waterfront project which could bring 3,500 jobs to Fife.
The Scarborough Muir Group, which owns the sprawling 135-acre site on a prime location near the Forth bridges, pledged to work closely with the local community to develop its ambitious plans.
Its proposals would see a mixed-use development to regenerate the area with places for employment and commerce, leisure, offices and housing and a Forth-side promenade.
The plans would give the public access to the historic waterfront for the first time in more than a century.
Scarborough Muir brought in planning and urban designers JTP for a community planning weekend where members of the public could help create a vision for the site near the Port of Rosyth and dockyard.
After analysing the feedback, JTP drew up a vision for the development and its relationship with Rosyth.
Key ideas to emerge from the two-day consultation included:
Giving public access to a mixed use waterfront destination, including cafes, restaurants and other amenities
Designing well connected new neighbourhoods of character to "grow, play, work and stay" using 21st century garden city principles
Linking existing natural and heritage assets on and around the site to create a high quality landscape for both people and nature
Creating a sustainable movement network for walking, cycling and public transport
Charles Campion from JTP said: "The local community has been very positive about opening up this brownfield site for a mix of uses and activities with strong connections to Rosyth – all to bring the maximum benefits to the local area and region."
The masterplan has four quarters – creative, coastal, learning and activity and garden village.
This will create offices, workshops, light industrial units, community hub, a nursery, coffee shop and diner, small park and play area, shops, restaurants, bars, apartments and housing, wellbeing centre and spa, lido, and visitor attractions including a riverside nature walk and bridge viewing platform, St Margaret's Marsh with duckboard walkways, primary school, outdoor adventure centre, zip wires, supermarket and allotments.
The design team will now move forward and prepare a planning application for the site.
This will be submitted to Fife Council after the reporter has issued their review of the local development plan.
Plans include heated outdoor pool
The creative quarter will add new offices, workshops and light industrial units within the existing business park area and extending along Milne Road.
It will be grouped around a community hub, a nursery, coffee shop and diner, small park and play area.
South of Milne Road lies the coastal quarter, described as a "dynamic" mixed-use space of shops, restaurants, bars, coffee places, offices, apartments and visitor attractions.
A park and gardens will meet the Forth at a lido, an outdoor heated pool, and there will be a wellness centre and artisan cluster of studios and workshops.
This is also where there will be a riverside nature walk and bridge viewing platform and duckboard walkways on St Margaret's Marsh.
And there is also a proposal for a potential light railway halt.
The learning and activity quarter lies at the heart of the development.
Here there will be a new primary school and playing fields, outdoor adventure centre and summer campus, aerial adventure zone, climbing wall, zip wires and water zone.
The garden village quarter will see a broad range of affordable and private housing.
This will be arranged around a network of parks, allotments and drainage features while a "distinctive landmark" at the entrance to the waterfront will comprise a supermarket, ground floor shops and offices with upper storey flats.