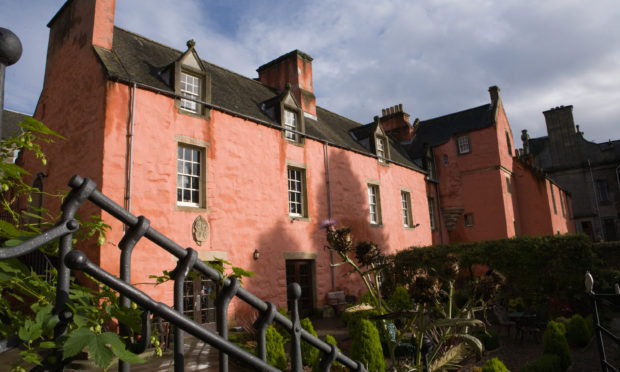 Dunfermline's historic Abbot House could be about to open a new chapter in its long and illustrious history.
The team behind the successful Fire Station Creative, a cultural hub in the heart of town, presented an ambitious proposal for the oldest building in Dunfermline's ancient capital.
The Pink Hoose, a heritage centre in the heart of the historic quarter, has lain empty since financial failure led to its closure in August 2015.
Plans for the Carnegie Dunfermline Trust-owned building could see it becoming a tourism hub, linking up all the buildings in the heritage quarter and becoming a focal point for visitors, given a question mark over the long term future of the local tourist information centre.
It would also include a deli and fine dining area, accommodation to link in with the Fife Pilgrim's Way, function room, business accommodation and studio space.
Area services manager Joe McGuinness made it clear to local councillors it was a "proposal in principle" at this stage, and a detailed business plan must be developed and well as securing funding and ensuring the house's new incarnation would be a viable and sustainable proposition.
"It is a vision, not a business case," he said.
Abbot House would work within a partnership of other organisations, not as a separate business, linking with the likes of Dunfermline Abbey, Carnegie Birthplace Museum, new museum, library and gallery and Carnegie Trust.
Even if it was not involved in running it, the Fire Station Creative, would be keen on helping in any way in a voluntary capacity to get the centre up and running once more.
City of Dunfermline area chairwoman Helen Law touched on a report earlier this year which stressed the need for partnership working to give visitors the best of Dunfermline.
"The heritage quarter is screaming out for something to pull it together. This would do that," she added.
The council has earmarked a total of £80,000 to help secure the long term future of Abbot House, and has agreed to donate kitchen equipment as well as it is estimated it will take £280,000 to bring it back into use.
Supporting the vision, Councillor Neale Hanvey spoke of the need for Dunfermline to have a "magnet" to draw visitors in.
"We have two unique selling points, The Bruce and Andrew Carnegie.
"If Abbot House is going to be a gateway to other things, then we need that magnet offer to draw people in."