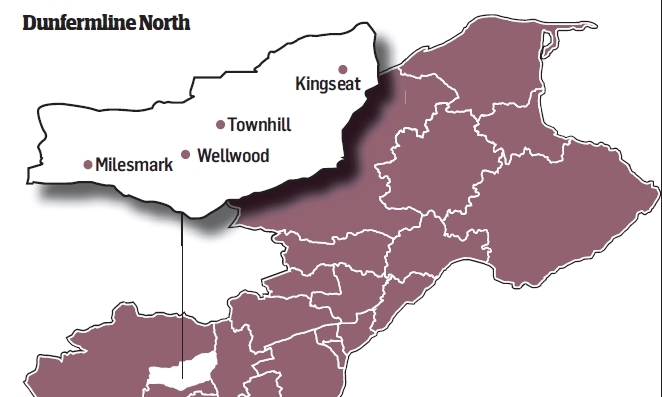 The pressure the rapid expansion of Dunfermline North could place on
local services is the main talking point in the ward.

Now running from the district of Parkneuk in Dunfermline to the village
of Kingseat, as a result of boundary changes, the area is witnessing
significant housing developments at the current time.

I&H Brown has already started work on a £100 million development,
including a primary school, on 62 hectares of agricultural land between
Parkneuk and Wellwood.

Meanwhile developer Taylor Wimpey is shaping up plans for a 1,400
housing development to the north of Halbeath.

This proposal would also include a primary school and other community
facilities.

However, many are concerned about the impact such vast schemes
will have on high school provision and also on the local road network.

In particular, there are worries about the planned northern link road
which will marry up with the M90 at the busy Halbeath junction.

Construction of the road would see it run alongside Townhill Country Park
and cut across the village before running alongside the old railway line
towards Kingseat Road.

Many communities are concerned about the impact it may have on their
lives.

At present the sprawling ward is represented by two Labour and one
SNP councillor.

However, the SNP's David Mogg stood down for personal reasons,
forcing a by-election in November 2015.

This was held for the party by Ian Ferguson, who polled 1,056
votes, ahead of Labour's Joe Long on 719.
Turnout was just over 24%.
---
Candidate profiles
The Courier invited each candidate to submit a short introduction to themselves and, if they wished, a video explaining why they deserve your vote.
Michael Boyd (Labour)
Michael Boyd has lived in the Dunfermline North ward for seven years.
A former local postman and delivery manager for the Royal Mail, he said he knows Dunfermline North well.
As a union representative in the Communications Workers Union and now the security and aviation sector of the GMB, Mr Boyd has been directly involved in pay negotiation and supporting colleagues in industrial relations cases.
He has a particular interest in workers' safety rights and is pursuing his interest through study at Fife College.
As someone who has directly experienced poverty, he is a keen campaigner for the Living Wage.
Mr Boyd has volunteered with local hospital radio station for the past four years, producing coverage of local galas and events, the PKD Festival and The Queen's Baton Relay.
He is also a member of the local Police Scotland Speedwatch team.
Gavin Ellis (Scottish Conservatives)
Gavin Ellis currently works for a council and has carried different roles within a community setting during this time.
"I started off dealing with anti-social behaviour and I developed an understanding of issues surrounding youths in the estate and drug use.
"I was proactive in challenging these issues and developed activities such as street football tournaments," he said.
His current role is in environmental enforcement, dealing with a large volume of issues ranging from dog fouling, fly tipping, abandoned vehicles and waste issues.
"If elected for Dunfermline North I intend to bring my knowledge and experience along with a strong work ethic."
Ian Ferguson (SNP)
SNP Councillor Ian Ferguson has lived in Dunfermline for 28 years and was elected in a by-election in Dunfermline North in 2015.
With 3,000 new homes soon to be built across the area, he said he has been a strong voice for local communities to ensure roads, schools and health services are in place as soon as possible to support families moving into these new homes.
He added that he knew that it is communities who understand their area best so will continue to encourage and support local decision-making through community budgeting and helping headteachers make the best use of £10 million direct funding to close the educational attainment gap.
Fiona Fisher (SNP)
The SNP candidate is Fiona Fisher, who is married with three children.
She is a graduate biochemist who worked for the NHS in pathology laboratories before having her family.
She has have since been a family carer for the couple's profoundly disabled son for 22 years.
"Working closely with both statutory and voluntary services within education, health and social care has taught me flexibility, tenacity and resourcefulness – the worth of listening and being listened to," she said.
The family has lived in the Dunfermline North ward since 1998.
"This is my community, my home – and as a first time candidate I want to stand up and work hard for us all."
Mags Hall (Scottish Green Party)
Green candidate Mags Hall said: "Born and brought up in west Fife, I am a green activists with over seven years' experience working in the charity sector, specialising in sustainable food and community food projects."
She has previously worked for the Fife Diet project before founding the charity Common Good Food and setting up the social enterprise Open Food Network, both of which support small and emerging food producers.
She also currently supports local Green MSP Mark Ruskell on issues specific to Fife.
"I am a strong advocate for meaningful community engagement in the decision making process, and would be a passionate voice for Dunfermline North in Fife Council on issues such as the capacity crisis at Queen Anne High, the downgrading of community facilities in areas like Townhill, and the need for regular affordable public transport to the outlying areas in the ward."
Bryn Jones (Lib Dem)
Bryn Jones is the Scottish Liberal Democrat candidate for Dunfermline North.
He became a father for the first time in October last year but this hasn't slowed him down as a common sight in Dunfermline is Mr Jones knocking on doors with a pram in tow.
Mr Jones is campaigning to be a local champion and sort out the issues that are plaguing Dunfermline North, like the persistent dog fouling and vandalism that brings the region down.
In the campaign so far Mr Jones has had potholes filled, graffiti removed and signs replaced.
He's hoping that residents back his bid to become Dunfermline North's next hard working councillor.
Helen Law (Labour)
Helen Law currently represents Dunfermline North, and chairs the City of Dunfermline area committee.
She was born in Culross and has always lived in Dunfermline and west Fife.
She attended Dunfermline High School and graduated from the Open University.
"I spent most of my working life as a civil servant, mainly in Dunfermline and Glasgow, and was an active trade unionist.
"As a local councillor and community activist, I know I have a reputation for hard work, dedication and never giving up.
"Over the last five years, it has been a privilege to support individuals and families, as well as local groups and community councils.
"I am proud to have played my part in many new developments and improvements right across the area, including new parking areas, improved roads and pavements and environmental and floral intiatives.
"I am determined to pursue further decentralisation to communities, and to consulting and working with young people," she said.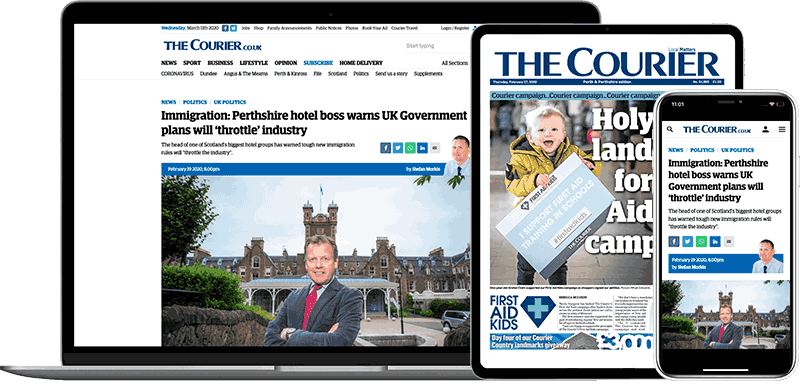 Help support quality local journalism … become a digital subscriber to The Courier
For as little as £5.99 a month you can access all of our content, including Premium articles.
Subscribe