Ethics concerns as cigarettes and alcohol on sale at Fife pharmacy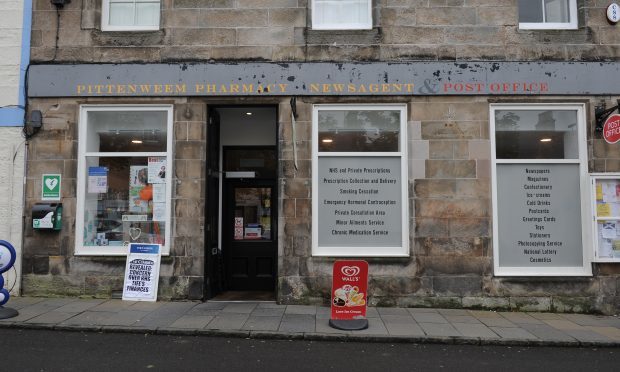 A Fife chemist has been granted permission to sell alcohol despite concerns the move is unethical.
Local resident Atholl Reid highlighted the Royal Pharmaceutical Society's Code of Ethics while objecting to Pittenweem Pharmacy's application for a liquor licence at a Fife Licensing Board meeting.
"Pharmacists must not purchase for sale on registered pharmacy premises any product which may be injurious to public health or bring the profession into disrepute," he said.
Councillors on the board heard the pharmacy already sells cigarettes, which along with alcohol were specifically prohibited by the code, which has now been superceded by standards set by the General Pharmaceutical Council.
The standards make no specific mention of alcohol, but state: "The environment and condition of the premises from which pharmacy services are provided, and any associated premises, safeguard the health, safety and wellbeing of patients and the public."
Principle pharmacist Peter Tinkler argued that the dispensing section of the Pittenweem premises was separate from the post office, newsagent and off-sales at the Market Street shop.
And he said changes in the way post offices are run meant the business had to diversify to stay afloat.
But objections were heard from Mr Reid and the proprietor of the neighbouring shop, Traquair's.
Mr Reid, who helps out in Traquair's, continued: "I find it incomprehensible that a pharmacy owner would consider selling alcohol to his customers, which seems to be contrary to his code of ethics, which is to enhance the health of his customers."
He and Maureen Traquair of Traquair's said there was an "over sufficiency" of alcohol sales in the village and raised concerns about youths travelling to Pittenweem to buy booze.
Ms Traquair, who sells wines, some spirits and beers at her shop, said if granted the licence could result in her business folding.
She added: "This pharmacy already sells cigarettes, which is quite surprising to a lot of people."
The licence was approved after Mr Tinkler amended his application to restrict the premises' closing time to 6pm six days a week.
Mr Tinkler denied that the store would be a "magnet" for youths, given the 6pm closing time.
"I think we were given a fair hearing and really what we're doing is addressing the needs of our customers," he said.
"The pharmacy area has been closed off from the sale of other goods."
Licensing decision "disappointing"
The Royal Pharmaceutical Society has described the licence to sell alcohol at Pittenweem as "disappointing".
Aileen Bryson, the society's interim director for Scotland, said: "As the professional body for individual pharmacists, the Royal Pharmaceutical Society would not support the sale of products detrimental to health such as alcohol or cigarettes from a registered pharmacy.
"We would not expect the pharmacist to be involved in the sale of alcohol. It is disappointing that resourcing of an essential service such as a pharmacy is lacking to the extent that other measures such as this have been considered essential."
The society had concerns about the licence despite the fact alcohol sales were restricted to a different part of the premises.
Ms Bryson added: "Our Scottish community pharmacy network delivers national public health services, including smoking cessation, and, in addition, many pharmacies also provide brief alcohol interventions to help support the public and patients."
NHS Fife said shops across Scotland, in particular supermarkets, accommodated pharmacies.
Medical director Dr Frances Elliot said the pharmacy and shop at Pittenweem were "entirely separate".
She said: "It is important that people in Fife have convenient access to healthcare services such as pharmacies, particularly in more rural communities like those in the East Neuk.
"While these villages are often too small to support a stand-alone pharmacy, such arrangements mean that pharmacy services can still be provided locally, reducing the need for many people to travel a distance in order to access this form of healthcare."