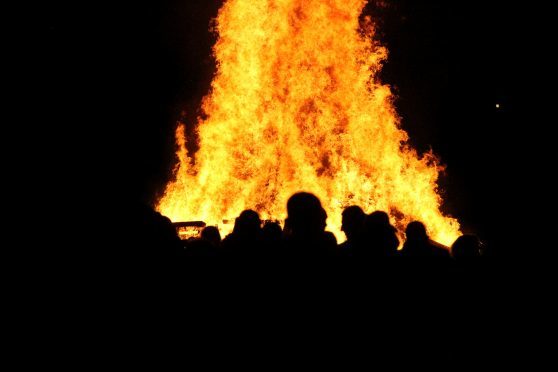 Organisers of Fife's smallest organised bonfire and fireworks display fear this year's event could be the last due to dwindling funds.
The Courier revealed earlier this month how locals in Cardenden harboured similar fears about their community event in Wallsgreen Park, with the financial burden of first aid, insurance and landfill costs taking its toll.
Organisers of the Newton of Falkland fireworks display, which has run for almost 20 years, have suggested the November 5 show at the Myre could signal the end of the tradition.
Up to 900 people are thought to have attended last year's free event, with organisers relying entirely on donations to keep it going.
The 25-minute display now costs around £600 to stage, with the figure rising over the last few years.
Despite Haldanes in Glenrothes supplying wood for the bonfire and Police Scotland continuing its support, it is understood fireworks suppliers have put their prices up and the cost of providing first aid cover has doubled since last year. A Fife Council grant was also axed prior to the last year's display, putting extra pressure on volunteers.
There has also been a suggestion organisers may have to start paying for cones to help with traffic flow on the Freuchie to Falkland road.
A spokesperson said: "It will be a real shame if the Newton firework display has to fold but this year's event could be our last.
"A combination of costs going up while Fife Council funding has been axed means we are struggling to break even and be cost effective. Like other displays in the area it is becoming harder and harder to sustain.
"Our volunteers rely completely on the generosity of the crowd each year and hope the weather gods are kind to us next month and we get as many people down to the Myre as possible.
"We want the displays to continue but need support from the local communities to help put on the show."
He said a combination of bad weather and a small crowd could "tip us into the abyss", with this year's event only going ahead thanks to a "really generous" crowd and some "rabid bucket rattling" last year.
This year's show will be held at the Myre on November 5, with the fire lit at 6.30pm.
Janice Laird, North East Fife community manager, stressed funding is available for community groups, with councillors having the final say on priorities for their area.
She said: "The fireworks display at Newton of Falkland is eagerly anticipated every year and the committee who pull it all together do a great job.
"It would be really disappointing if it didn't continue due to the costs involved.
"Community groups can apply to their local area committee for financial support, including for bonfire/firework displays, and councillors will make a decision on what the priorities are for their area.
"This year, in North East Fife, we funded two requests to support community bonfire/firework events."