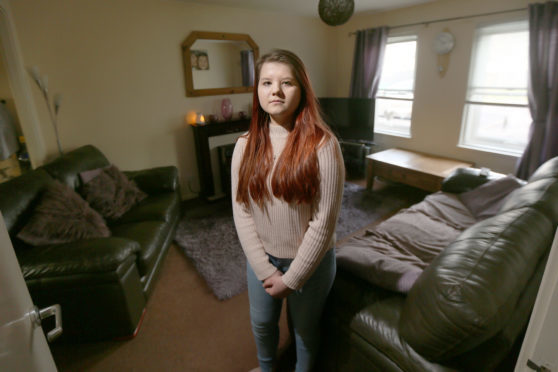 The Ministry of Defence has been accused of profiteering by privately letting out military homes in Fife.
Cupar councillor Karen Marjoram criticised the MoD for letting out surplus properties in the town and at Leuchars at market rates.
The move follows reports of damp and infestation in soldier's homes, highlighted recently by North East Fife SNP MP Stephen Gethins.
One military couple living in a house with mould on the walls said they were told there was nowhere else for them to go.
However, MoD properties are being advertised privately, with one two-bedroom home on the market for £550 a month.
Mother of two Angela Wilson, whose husband Paul is a corporal based at RAF Lossiemouth, said her home had been riddled with damp for the past three years, and her family's health had suffered.
"The damp has affected every room in the house," said Mrs Wilson, 44.
"It's over the bed and everything. The bed has gone a yellowy colour and there are black spores on the walls.
"Its disgusting.
"We've always got the cold or a chest infection. When my daughter does PE at school she says she gets breathless."
Mrs Wilson stayed on in Leuchars after her husband, 43, was moved to Lossiemouth because her elder daughter was studying locally.
"He's fed up," she said. "Every time he comes back to Leuchars he says you can smell it straight away."
The couple claim they cannot move from the home because they have been told there is no alternative accommodation and they cannot give a notice to quit while Mr Wilson is still serving.
North East Fife MP Stephen Gethins said: "It is astounding that the MoD thinks it is acceptable to hand over more than a hundred houses in Leuchars and over 30 in Cupar to a private letting firm when, given to Fife Council or a housing association to allocate, these family homes could do so much to alleviate North East Fife's affordable housing situation.
"These properties have been paid for by the tax-payer and any income from rentals should be going back into the public purse, not the defence budget and a private firm.
"When I raised this issue in February last year defence minister Mark Lancaster acknowledged the issue of affordability in the area and assured me no decision would be made until a full assessment was carried out into the suitability of these homes being offered to a private letting firm. I have not received any update since.
"The MoD clearly has little regard for the welfare of its service personnel who are being forced to stay in damp, unsuitable accommodation – or for local families who would love the opportunity of renting these properties at an affordable rate. There is no guarantee of this being the case if a private firm is put in charge. This decision is appalling and I have written to the Defence Secretary to ask him to put people before profit."
Ms Marjoram, SNP councillor for Cupar, said families such as the Wilsons should be given priority over private renters.
"The armed forces are going to make a profit out of this," she said.
"That's the ridiculous thing. Military families are getting told there is nowhere to move them, when there clearly is.
"They own these houses but are saying they are not available. It's profiteering."
She added that there was a wider issue, with a shortfall in social housing across the area.
Another option, she said, could have been handing the homes over for use as affordable housing.
"All 49 of the Kingdom Housing homes in Pitscottie Road have been allocated already and they've not finished getting them built yet," she said.
The Ministry of Defence were approached for comment.