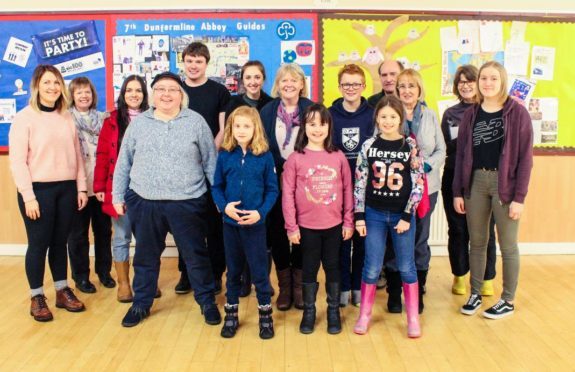 A Dunfermline cast has invoked the famed spirit of perseverance of the Scots king to whom their new play pays homage.
For, true to the tradition of Robert the Bruce, who infamously "tried, tried and tried again" they have resolved that the "show must go on" despite a double whammy of setbacks caused by the beast from the east.
Planned rehearsals for Saturday evening's premiere in Dunfermline Abbey of the theatrical re-enactment, Bones, Bogles and Coronets, were cancelled last week due to impassable roads and the disrupted delivery of the Abbey Church's heating oil — which also forced the congregation to switch their Sunday morning service to the Abbey Church halls.
With a planned cameo appearance by Dunfermline star Barbara Dickson, the players remain committed to present their commemorative production in celebration of the bicentennial of the building of the Abbey Church and the 200th anniversary of the "tumultuous" discovery of the long-lost remains of the victor of Bannockburn.
A spokesman said: "Many of the cast and musicians live in outlying areas and could not get into rehearsals last week, and the travel problems were compounded by the delayed delivery of the church's heating oil.
"However, with approaching two-thirds of the tickets having already been sold before the onset of the snow storms, everyone has rallied round and decided the show must go on.
"With dwindling heating oil stocks and snowbound pathways posing access problems for the oil tanker to replenish the tank, farmer James Scott of Remiltoun Farm came to the rescue on his JCB.
"Aided by a team of volunteers from the congregation, together with staff from Historic Environment Scotland and members of the public who responded to an appeal for help on social media, the way was quickly cleared for the re-scheduled oil delivery and the transfer of staging from Beath High School."
There will be additional rehearsals to ensure the play can go on as billed and the remaining tickets for the 7pm show will be available at the door on the night.
Proceeds, together with money raised by other events over the next four years of bicentenary celebrations,  will be split between Scottish Faiths Action for Refugees and the Abbey Church Restoration Fund to help the Abbey continue as a a place of refuge and shelter for the next 200 years.