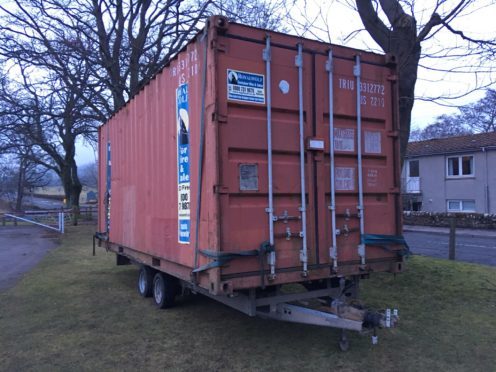 Cupar Highland Games has been thrown into crisis after thieves made off with £2000 worth of equipment.
A 20ft flatbed trailer and storage container were stolen from the town's Duffus Park at an unknown time during the last two weeks.
Chairman Bill McSeveney has said an emergency meeting will be held to discuss the "significant impact" the theft will have on the June 17 event.
He added the loss accounted for almost a quarter of the committee's budget for the Highland Games and will cause severe logistical problems.
Mr McSeveney said: "The theft was discovered approximately a week ago after one of our members noticed the trailer was missing from the Duffus Park and contacted me.
"We then started the process of eliminating who may have taken it – whether it was another member or someone from the council's services department.
"Because of the public holidays, we weren't able to get a response from anyone there but we have now ruled out all other options. They were stolen within the last two weeks.
"We had been storing them in the park with the view to moving them elsewhere before the games.
"The trailer is a 20ft flatbed and was going to be used to move fencing panels and the like. We were in the process of buying the trailer and because we committed to that, we now have to pay out £1000 for it.
"The container has been valued at around the same amount and was going to be used to store all the paraphenalia from the games such as the cabers and weights.
"It was also going to be offered for use by other community groups and events.
"The value of the theft represents about a quarter of the money we have in the bank and it costs around £11,000 to £12,000 to put the Games on.
"We are having a meeting to discuss what happens next but this will have a significant impact.
"The theft is a substantial loss to the Highland Games and will have ramifications for the community as a whole."