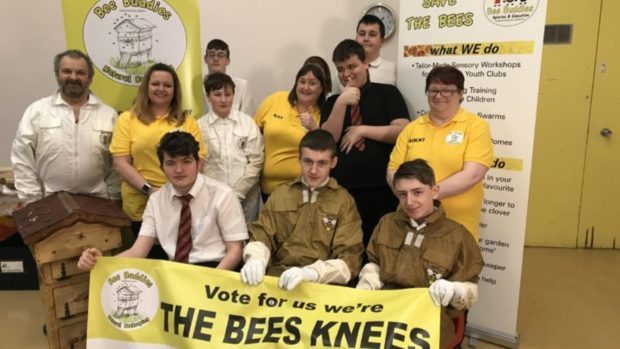 A community beekeeping project is hoping to create enough of a buzz to secure almost £50,000 of lottery funding.
Methil-based Bee Buddies is in the running for a share of up to £150,000 in this year's The People's Projects.
Now in its 13th year, the initiative sees the Big Lottery Fund and STV team up with the National Lottery to give the public a chance to decide how funding should be used in their area.
Bee Buddies showcased their project, The Bees Knees, on STV2's Live at Five on Monday and urged viewers to support their bid for £49,400.
The group educates children and adults on the importance of bees in the ecosystem to encourage and train more beekeepers.
It wants to buy and furnish a wheelchair-accessible mobile education centre with a training booth to be used at schools, youth groups and community events.
The money would also be used to buy ten hives made by another Fife charity, West Fife Enterprise Ltd, to allow 10 new trainee beekeepers to fulfil their beekeeping dream.
Bee Buddies is one of five groups in the STV east area in the running for an award but only three will be successful.
Founder Kay Rooney pleaded with people to vote for them.
"This is an exciting opportunity to raise awareness and support for our work and, with your help, to secure further much-needed funding," she said.
"We urge local people to get behind us.
"If successful, our project will make a real difference to our local community by supporting the education of our children, teaching a new skill to young and old alike, increasing the number of bees in our county by creating new bee-friendly beekeepers and making Fife the 'bee guardian' champion of Scotland."
Martin Cawley, the Big Lottery Fund's director for Scotland, added: "As the largest funder of community activity in the UK, we are proud to support grassroots groups that are using the vision, determination and drive of local people to strengthen communities."
People can vote for The Bees Knees from now until midday on April 30 by logging on to www.thepeoplesprojects.org.uk.