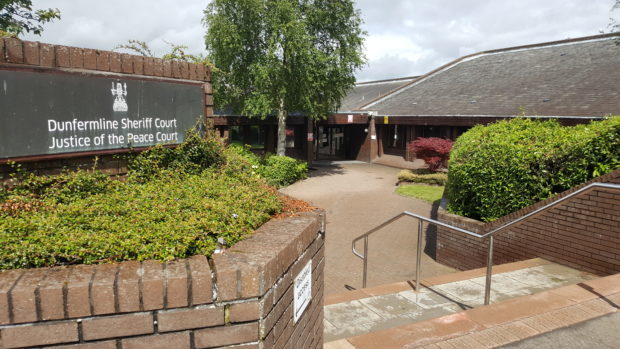 A Glenrothes man on trial for dangerous driving after two schoolboys were knocked down by a bus is back behind the wheel with the same company, a court has been told.
John Morrison, of Marmion Drive in Glenrothes, appeared at Dunfermline Sheriff Court yesterday where he denied a dangerous driving charge.
The 59-year-old, who works for Bay Travel, was involved in an incident which left a then-13-year-old school boy trapped underneath a coach and suffering from serious injuries.
A second boy, then-aged 12, was also hurt after being hit by the vehicle in a car park at Dunfermline's Allan Crescent on February 28 last year.
Travel firm partner Iain Robertson told the court Morrison had taken time off work following the accident but that he was back at work driving coaches.
The 56-year-old said: "John was off for about two or three weeks before he came back to work.
"I called him to see how he was doing and I informed the insurance company who took over the case.
"We did speak about what happened (before the accident) but he was more concerned about the laddie because it was a tragic incident.
"It was about six to eight weeks before he drove a coach again. He had been doing garage duties, cleaning and shunting vehicles.
"He went to pick up the vehicle that had been involved in the accident from Stirling. That was the first time since the accident."
When asked what Morrison had told him about the events leading up to the collision, Mr Robertson replied: "He said that the kids were carrying on about him and in front of the bus and he never saw the kids going under the bus."
The company boss added Morrison was a "valued member of staff" who was still driving coaches for the firm.
He added: "He takes kids all over Britain, football tours and the like."
Mr Robertson also told how the area surrounding the car park had been the site of many problems involving school children interfering with coaches.
He said that on one occasion, buses leaving the area had to be given a police escort and youths regularly "threw stones, banged on the side and spat on the vehicles".
The director noted several bus companies had reported issues in the area and they had flagged their concerns with the police, Fife Council and Woodmill High School.
He added employees were given 15 minutes before leaving the depot to examine coaches for any faults and he was not aware of any other incidents involving Morrison.
The seriously injured boy's aunt also gave evidence and described seeing the scene of the accident in the immediate aftermath.
Speaking through tears, she said: "There were people screaming, the fire engines were flying into the car park, it was just chaos."
The trial, in front of Sheriff Charles Macnair, continues.