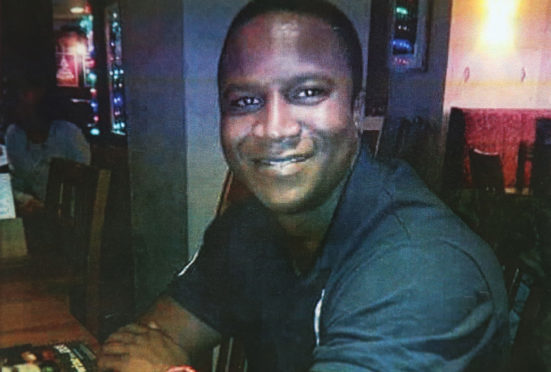 Sheku Bayoh's family will learn the outcome of a criminal probe into his death next month.
Reports in a Sunday newspaper suggested police officers will not face prosecution over the Fife man's death.
Mr Bayoh died after being restrained by police officers in a Kirkcaldy street on May 3 2015, although the Crown Office have still to officially decide whether or not there should be any criminal proceedings in the case.
The Mail on Sunday said no charges will be brought against any of the officers involved, but the Bayoh family's solicitor Aamer Anwar stressed there has been "no definitive decision" from the Crown.
Sheku's sister Kadi Johnson said the family's "patience has been exhausted".
She said: "We the family have kept an open mind and had faith in the justice system but waiting for three years with no answers has been soul destroying.
"We want an end to this. We need to grieve."
Mr Anwar revealed that he, along with the family, is to meet with the Lord Advocate on October 3 to hear what the country's chief prosecutor plans to do next, if anything.
He said: "No decision has been made and the family will meet with the Lord Advocate next month, when the family will be told what's happening.
"There has been no definitive decision."
Sheku, who was born in Sierra Leone, died after being restrained on the pavement by up to nine police officers who had been called to the scene on Hayfield Road following reports of a man with a knife – although no weapon was recovered on Sheku.
His family allege Sheku died from "positional asphyxia", in that he was unable to breathe because of the pressure applied by officers, and have also accused police of mishandling the investigation.
A procurator fiscal's report said the father-of-two had died as a result of sudden death while he was intoxicated by the drugs ecstasy and flakka and restrained.
Sheku had a number of cuts and bruises, petechial haemorrhages in his eyes, which are a symptom of asphyxiation, a fractured rib and grazing.
The Police Investigations and Review Commissioner (Pirc) submitted a report on the case to the Crown in August 2016, but Mr Bayoh's family have criticised the length of time taken to investigate the 31-year-old's death.
They have already launched a civil case against Police Scotland – seeking around £2 million in damages – and have said in the past they would call for a public enquiry if police are ultimately cleared of any wrongdoing.
A fatal accident inquiry is expected to be held regardless.
A Crown Office spokesman said: "We are meeting the family in the near future to update them and it would not be appropriate to comment further at this time."
The Scottish Police Federation has declined to comment ahead of any official announcement by the Crown.