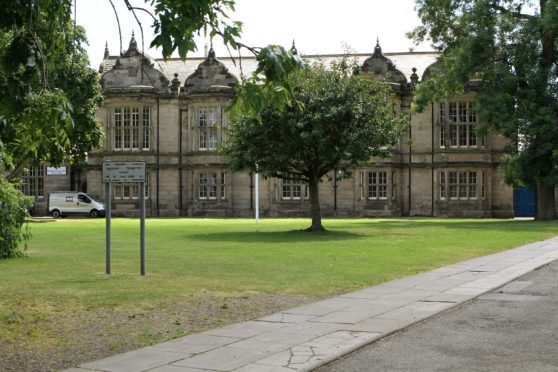 Fife Council has insisted there is no cause for alarm after wooden panels fell from a wall as pupils sat an exam at Madras College.
The incident at the St Andrews secondary school's South Street building last week resulted in part of the assembly hall being fenced off and prompted fears for pupil safety.
An external passageway was also closed.
The education service said investigations had shown it was not due to a structural issue and that repairs would be carried out as soon as possible.
But worried parents said it had exacerbated existing fears about the state of the building, which currently has a D rating, the lowest possible, for both condition and suitability.
One mother said her daughter had been sitting a prelim exam alongside other pupils in the assembly hall when wooden panelling clattered to the floor.
"The school has been falling to bits for ages and now we're hearing the walls are shaking and bits are falling off," she said.
---
>> Keep up to date with the latest news with The Courier newsletter
---
"Apparently there are engineers in assessing the situation and there's scaffolding up and it's quite concerning.
"The school is doing its best to make sure the kids don't get near it but my fear is a child will end up injured. It's very, very worrying."
North East Fife Liberal Democrat MSP Willie Rennie said parents and pupils were right to be alarmed by the state of the building.
"We need a clear assurance from the school and the council that the building is safe for pupils and staff," he said.
"The impact on education at an important part of the academic year could be significant.
"The council should publish its assessment of the condition of the building and its plan to prevent future incidents like this."
Shelagh McLean, Fife Council's head of education and children's services, said swift precautions were taken by the school's head teacher as soon as concerns were raised about a wall in the assembly hall.
"However an engineer's inspection has confirmed that this isn't a structural issue and there's no cause for alarm," she said.
"It seems that, at some point in the past, a section of glazed panels has been removed and infilled with masonry that shows slight movement.
"This doesn't have any impact on the stability of the wall."
She added: "We'll be carrying out repairs as soon as possible and part of the assembly hall is being fenced off to allow this to happen, while the rest of the hall can still be used."