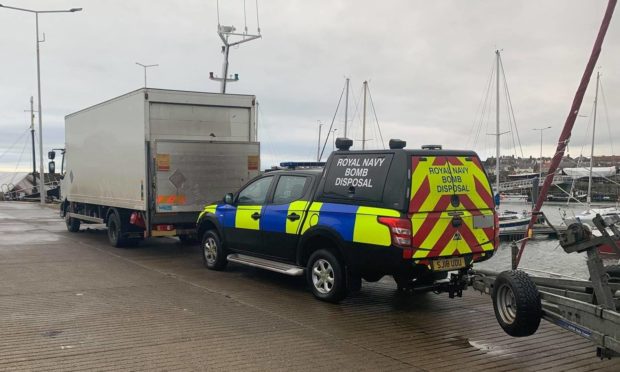 An exclusion zone has been put in place off the Fife coast after a fishing vessel netted a suspected explosive.
A crew on board the Blue Sky trawler made the discovery as they sailed near Pittenweem harbour.
The device, which is described as being 3.5ft long, 1.5ft in diameter and cylindrical in shape, was brought aboard before HM Coastguard were radioed.
The crew photographed the device and the images were sent to the Royal Navy's explosive ordnance disposal unit.
On advice from the bomb squad, the suspect explosive was lowered back onto the seabed of the Firth of Forth and its location marked with a buoy.
After the discovery on Saturday, a team of divers from the Royal Navy arrived at Pittenweem harbour the following day before travelling out to the drop site.
A two and half hour dive was carried out but was called off after the weather worsened.
The device was not recovered and a 1200 metre exclusion zone was put in place.
A team from St Andrews and Leven Coastguard was also on hand during the search to ensure no other vessels came too close.
A spokeswoman from HM Coastguard confirmed further attempts to locate the device will be made in the coming week if the weather permits.
She said: "We got a VHF radio call just after 2pm on February 2.
"We had a fishing vessel that was heading to Pittenweem and had hauled what looked like a part of ordnance.
"They were not sure if it (was a) complete device or just part of the ordnance. It was rusted in appearance.
"They were around 1.2 miles away from Pittenweem harbour at the time. At the request of the EOD, they returned the device into the water and put a marker buoy down.
"A second attempt to locate the item will be made in the next seven days."
A popular Fife beach was evacuated in July last year after a member of the public discovered a suspected mortar shell.
Emergency services were called to the scene at Tentsmuir, near Tayport, and a large cordon put in place.
The item was destroyed following a controlled explosion by the EOD.
An exclusion zone remains in place around allotments at Silverburn Park in Leven where Second World War grenades and ammunition have been discovered, believed to have been left by soldiers training in the former park on the site.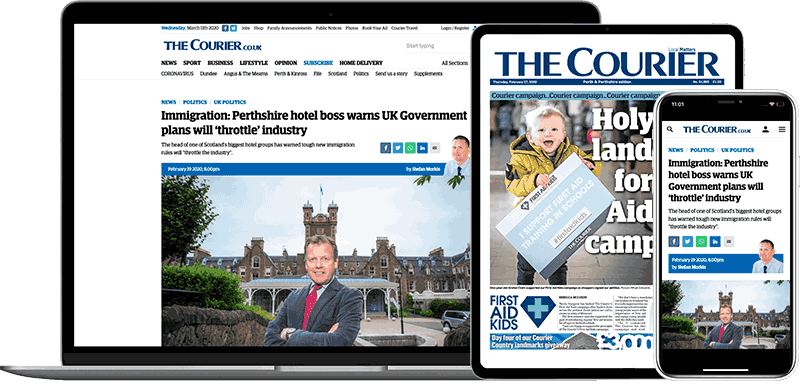 Help support quality local journalism … become a digital subscriber to The Courier
For as little as £5.99 a month you can access all of our content, including Premium articles.
Subscribe