A much-loved piece of town art has been returned to its prominent place on a roundabout – almost three months after the damaged dinosaur was almost declared extinct.
Rexie, a 10-foot Tyrannosaurus Rex sculpture, was knocked from its concrete plinth on Caskieberran Roundabout in Glenrothes on December 28 after a car careered into the artwork.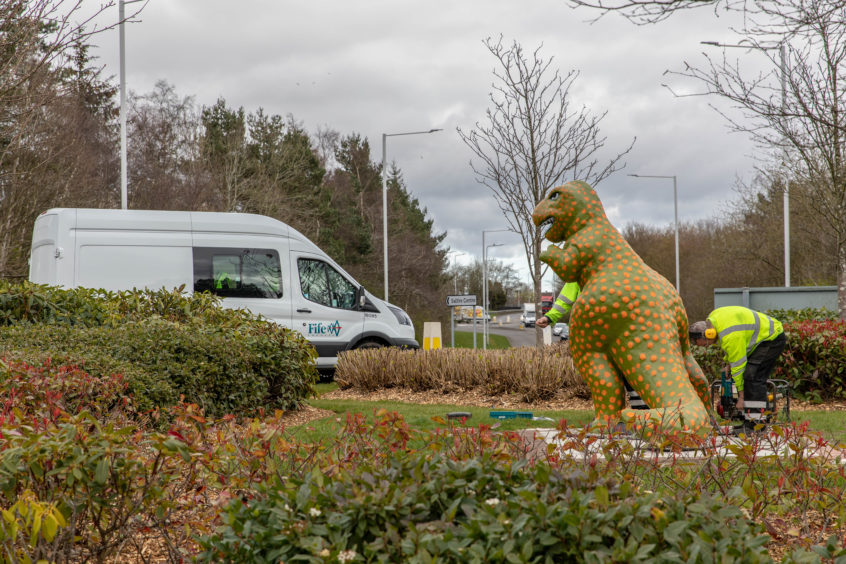 It was not the first time the dinosaur was almost destroyed, with Rexie falling foul of wayward motorists on a number of occasions in the past three years, prompting calls for the fibreglass model to be placed elsewhere.
Rexie's removal from its initial home in Waverley Drive caused an uproar in 2011, when a campaign to keep the sculpture in its place ultimately proved futile and the dinosaur was relocated to the roundabout.
In the wake of December's crash, an online vote saw a majority of respondents – around 70% – in favour of taking the rectified T-Rex back to the spot where it has come a cropper in recent years.
It had been feared Rexie had been damaged beyond repair but the sculpture was swiftly rebuilt.
Local SNP councillor Julie Ford, depute provost of Fife, said: "I'm delighted Rexie is finally fixed. I look forward to seeing his smiling face again once he's back home."
Rexie, which weighs between one-and-a-half and two tonnes, has had extra ballast installed and will be surrounded by boulders in a bid to ensure an accident doesn't happen again.
Tyrannosaurus wrecked – beloved Glenrothes dinosaur a goner after crash
Life finds a way…Glenrothes' beloved Rexie the dinosaur repaired and ready for return
Original artist Malcolm Robertson carried out the repairs, which have seen Rexie relaminated, fitted with a new skin and repainted.
While everyone will be glad to see Rexie back out in the wild, not everyone will be delighted to see the dinosaur back at Caskieberran Roundabout.
Local group The Tam Tam Band wrote a song called 'You Rexie Thing' – sung to the tune of Hot Chocolate's 80s hit You Sexy Thing – as part of a protest into its relocation, sampling the Was (Not Was) record Walk The Dinosaur and featuring the lyric: "Caskieberran get off the floor, everybody save the dinosaur."
Former town MSP Tricia Marwick has also been a long-time supporter of seeing the town art in its original place, and accused Fife Council of "arrogance and stupidity" for moving the much-loved sculpture.
"Rexie had been safe for 40 years and then it was moved to a roundabout," she said.
"I will never forgive them for this cultural vandalism."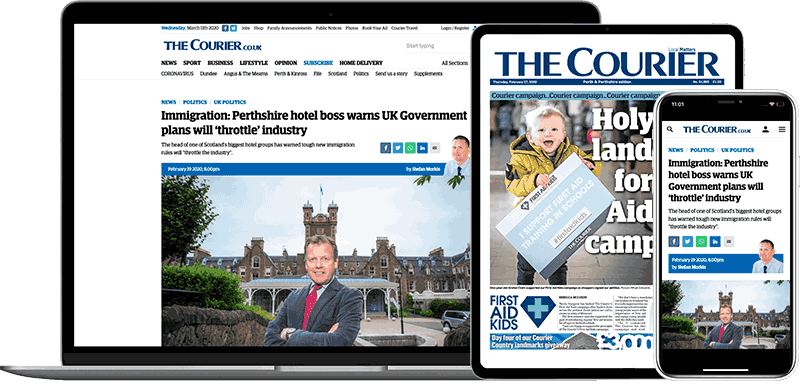 Help support quality local journalism … become a digital subscriber to The Courier
For as little as £5.99 a month you can access all of our content, including Premium articles.
Subscribe