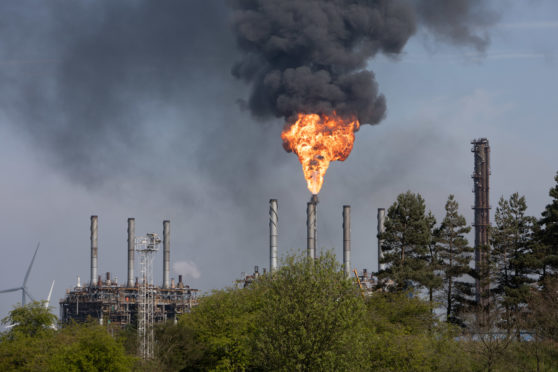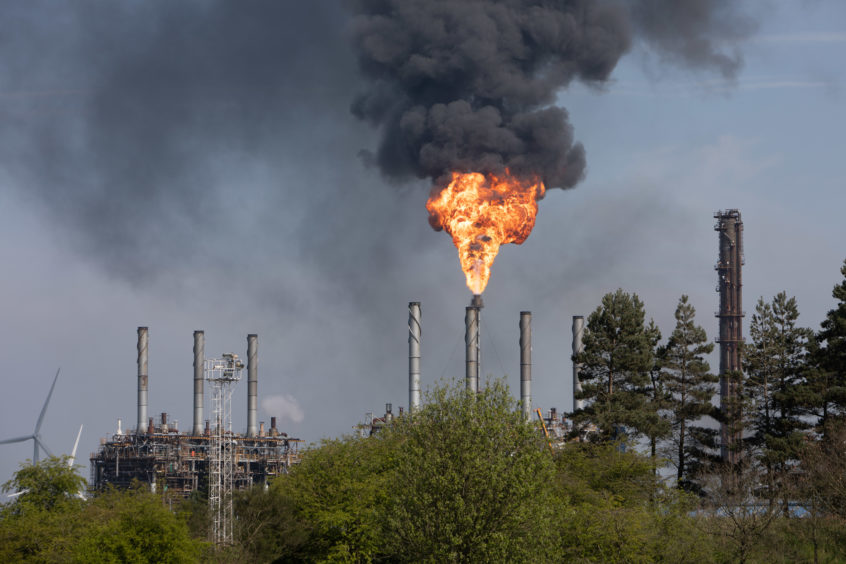 Thick black smoke was seen coming from Mossmorran during flaring at Fife Ethylene Plant on Easter Sunday.
The smoke was seen billowing in the direction of Cardenden and Lochgelly almost exactly a year since ExxonMobil and Shell UK, who jointly operate the Mossmorran complex, were served final warning letters by the Scottish Environment Protection Agency (SEPA) following previous flaring episodes.
ExxonMobil apologised to local residents and maintained there was "no danger to the local communities".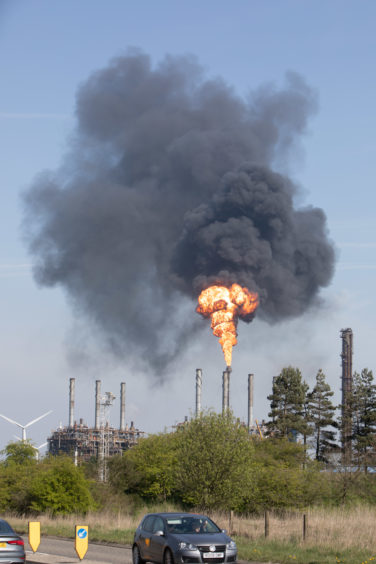 A spokesperson for ExxonMobil said: "ExxonMobil Chemical Limited would like to apologise to our local communities for any disturbance caused as a result of the flaring which is occurring today at the Fife Ethylene Plant, Mossmorran.
"The flaring is necessary following an interruption to the operation on one of our steam generating boilers. The loss of steam resulted in the smoky flaring earlier this afternoon.
"Our team have resolved this issue and flaring is now clean.
"Additional members of our team are now onsite and are working hard to address the process disruption. We envisage we will return to normal operations in a few days and as soon as we know more we will advise you.
"The flare is an essential part of the plant's systems and there is no danger to the local communities or staff onsite. We would like to assure you safety and environmental protection are our highest priorities."
Darren Watt, Conservative councillor for Cowdenbeath, took to Twitter to ask ExxonMobil to explain what had happened, criticising the firm for taking too long to inform the public about the plant shutdown.
ExxonMobil responded stating that teams were "working hard" to resolve the problem.
Due to a process interruption we are currently flaring. Our teams are working hard to resolve. We are sorry for the inconvenience and thank you for your patience. We will continue to update you @CllrDarrenWatt @FifeCouncil @aewingmsp

— exxonmobil_fep (@exxonmobil_fep) April 21, 2019
A SEPA investigation into past flaring events led to ExxonMobil and Shell UK's permits being amended, requiring them to tighten up procedures to prevent noise and vibration at the complex.
SEPA is keeping the petrochemical giants under review and could take further action if they are found to have breached regulations following Sunday's flaring.
The environmental regulator confirmed it had responded to the incident on Sunday and reminded the public of its pollution hotline number, 0800 807060.
SEPA Officers are aware of and responding to unplanned flaring at the #Mossmorran complex, Fife. Report environmental incidents online at https://t.co/CzHY6w0JZY or call our 24 Hour Pollution Hotline on 0800 80 70 60. #Cowdenbeath #Auchtertool

— SEPA (@ScottishEPA) April 21, 2019
Mr Watt said: "Once again, it is clear something has gone wrong and, like other local residents, I am extremely concerned by the latest bout of unscheduled flaring from the site.
"Furthermore, I am very annoyed and disappointed by the lack of any meaningful communication from the site operators.
"This does nothing but worry residents further and increase their anxiety."
Public concerns about flaring at Mossmorran intensified after a seven day shutdown in June 2017, which was triggered by a pump failure.
The flaring was accompanied by black smoke, noise and vibration.
SEPA said the flaring in 2017 was "both preventable and unacceptable".
Further flaring episodes causing concern followed in October 2017, and March and May of last year, when noise and vibration coming from the plant was noticeable from several miles away.
— INEOS_Grangemouth (@INEOS_GM) April 20, 2019
At the same time Mossmorran was flaring on Sunday, plumes of dark smoke were being emitted from two chimneys at the Ineos plant in Grangemouth, again as a result of an unscheduled shutdown.
Ineos said: "The unplanned outage at the Grangemouth site has led to flaring.
"We are endeavouring to reduce the level of flaring but this may continue into the night shift.
"Again, Ineos wish to apologise for any inconvenience that may cause our local neighbours and thank you for your patience."