'The two of us are so proud of her': Fife mum thanks local charities after daughter's cancer battle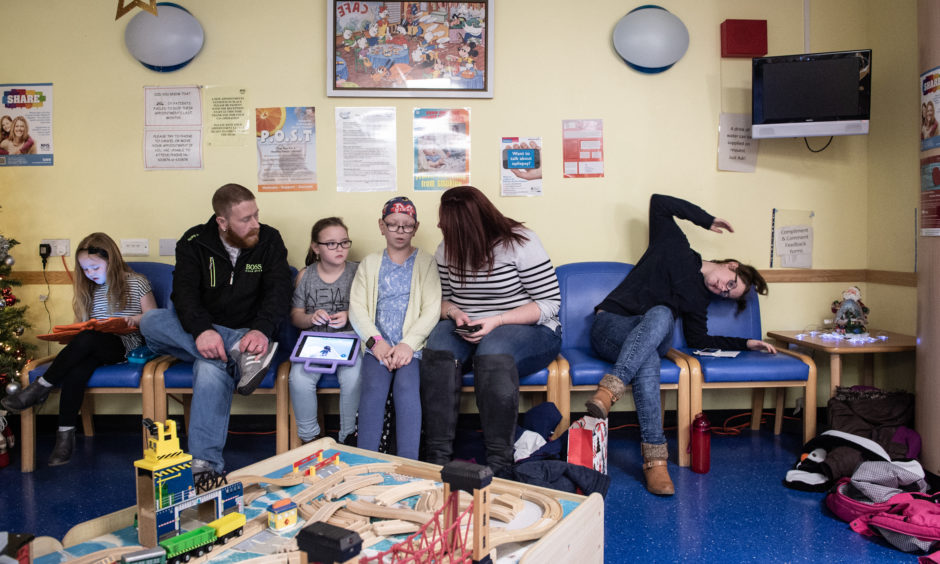 Small Charity Week celebrates and raises awareness of the essential work carried out by lesser known – and lesser funded – organisations across the UK.
From children's hospitals to veteran support groups, Courier Country is home to some of the country's best-loved charities.
In honour of their hard work, we are highlighting the brave fight of Fife youngster Holly Donald and some of the small charities that have supported her family during her battle with cancer.
"If we could bottle it, we would be millionaires," Despite years of gruelling cancer treatment, Holly Donald has positivity and strength far exceeding her 10 years.
The Ladybank youngster has been through 33 months of chemotherapy to treat tumours and may never be given the permanent all clear, but she has never given up hope.
Holly was first diagnosed with neurofibromatosis type one (NF1) when she was eight weeks old. The condition causes tumours to grow on her nerve endings, as well as learning difficulties and mobility problems. Aged three, she was also diagnosed with a brain tumour and began 21 months of chemotherapy.
But after four years clear of cancer, the brain tumour started growing again and last year brave Holly started another 12 months of weekly treatment.
Now parents Vicky, 33, and Gary, 37, have opened up about the toll the cancer and chemotherapy has taken on Holly and the family, including their three other daughters, Hannah, 12, Kaylynn, 8, and six-year-old Tuliya.
After watching Holly ring the "end of treatment" bell at Tayside Children's Hospital, marking the last of chemotherapy sessions every Monday, Vicky said: "Seeing her ring that bell was bittersweet.
"It sounds selfish but I was watching the other parents with their kids ringing the bell and I was jealous because for most of them it will definitely be the last treatment and the end, whereas we know it probably won't and the cancer will probably come back.
"It is brilliant and I couldn't be happier for her but it is bittersweet because we know it probably won't be the end."
The family decided to share poignant photographs of the milestone and an earlier chemotherapy session, during which Holly heard she needed an emergency operation.
"We wanted to do this because it's important to raise awareness, not just about the condition and charities but what chemo actually looks like," Vicky said.
"It's a huge shock because it's so much more raw and hard than we ever thought before.
"It's nothing like what they tell you or what you see on TV, with reclining seats and smiling nurses.
"There are hooks and pain and tears and fear. It sounds stupid but there is excitement too because you go every week and see the nurses and patients and the other mums, sometimes they are the only ones to get you through."
Despite the risk of the tumour on her brain regrowing, Holly has stayed positive and tried to live as normal a childhood as possible, including attending school and playing with her friends and sisters.
"Holly takes everything on the chin, she just deals with it, I can't explain how or why," said Vicky.
"Even with everything she has going on she still does fundraising and stuff to help other sick kids, it's amazing.
"The two of us are so proud of her. We can't fathom how she does it but if we could bottle it we would be millionaires.
"On a non-treatment day she can be like any other kid, at school and out on her bike. She has never not been able to do something any other kid can, she just finds a different way of doing it.
"The day she was told she needed surgery was bad. Usually she treats the whole thing like an adventure but that day it was like she hit a brick wall. It was the first time we could see that she was scared. Even then, once she got used to the idea she went back to normal, playing with her sisters."
Holly and her family are now trying to get back to normal after the last 12 months of chemotherapy and she is looking forward to being well enough to visit her grandparents' home in Spain for the first time.
Despite Holly's positivity, her parents are preparing for the possibility that the tumour may start to grow again.
Vicky said: "When she finished her treatment the first time we thought that was the end, so when it came back it just annihilated us, that's the only way to describe it.
"It sounds like I'm being negative but it's better for us to be prepared for the worst so we don't get sideswiped again."
Since Holly's diagnosis, the family has been supported by a number of local childhood cancer charities.
As this week marks Small Charity Week, Vicky highlighted the ways organisations in Tayside and Fife helped make life easier.
She said: "Small charities definitely don't get the recognition or the money they deserve. "Big charities get millions of pounds but with everything we've been through, it has been the local charities which have helped us get through it."
Love Oliver:
Love Oliver was set up by Andy and Jennifer Gill, from Leven, in memory of their first son Oliver, who was diagnosed with a malignant rhabdoid tumour when he was just 13 days old. He died peacefully at home on Christmas Day 2010. Just a few months later, the Gills set up the charity to fund childhood cancer research, as well as provide practical support to families.
With Christmas approaching in the midst of Holly's treatment, cooking a full family meal was impossible for Vicky and Gary.
But Love Oliver got in touch with a chef, who prepared  Christmas dinner with all the trimmings, so all Vicky had to do was heat it up on the day.
She said: "Love Oliver do anything to make your life easier, it's really simple thoughtful things.
"Without them we would never have been able to have a normal Christmas dinner.  The charity has gone from strength to strength and has done so well raising money but I still don't think it gets the recognition it deserves."
Team Jak:
Jak Trueman lost his life to a rare and aggressive form of cancer. He grew up in Mid Calder but spent a large part of his childhood in Markinch.
Before he died, Jak made plans to help other young people with illnesses and charged his mum, Allison, with the job of building it and creating Jak's Den – a purpose-built facility where young cancer patients and those with related illnesses, and their families and friends, could go to escape from the traumas of treatment.
The charity also gives gifts, offers help with housework and organises days out for both the children and their parents.
Vicky said: "The support days are great because they do offer emotional support if you need it but it's not all sitting round crying.
"The dads can all go out and do things together and the mums do the same. It;s nice to just have a laugh together and have a couple of hours when you're not constantly worrying about cancer."
Tayside Children with Cancer and Leukaemkia (TCCL)
The charity has been providing financial, emotional and practical support to families with children who suffer from leukaemia for more than two decades and recently celebrated its 25th anniversary.
It offers grants for travel to and from hospital and anything else to help with the disruption an illness can cause.
It covers Tayside and North East Fife and now offers much-needed holidays at the TCCL lodge in St Andrews.
Holly and her family visited the lodge while she was being treated in Edinburgh after her first diagnosis.
Vicky said: "The house in St Andrews  was perfect for us.
"When we stayed there we were actually closer to the hospital than we are at home so we didn't need to worry about being away but it still felt like we were on holiday.
"We got to have proper family time together on holkiday the way everyone else can. "That was really good for the kids because it can be really hard for them."
TCCL also provided money to help Vicky and Gary take Holly to London to see the musical Wicked.
TCCL donated £25,000 raised at its 25th anniversary celebration ball to Ninewells Hospital's paediatric oncology unit.
This will fund the redevelopment of the MRI scanning area for children, occupational therapist art supplies and a new TV system for children's side rooms.