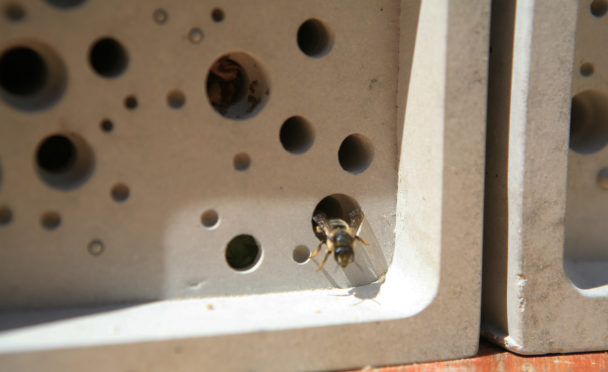 House buyers won't be the only ones with a new pad if they reserve a property at a Fife development next week.
A home for bees will be thrown in with any reservation made at Lochside Grange in Kinghorn.
Builder Lovell has teamed up with makers of the Bee Brick to offer a free bee nesting block to prospective owners.
The tie-up also supports the Bumblebee Conservation Trust campaign Bees' Needs Week to raise awareness of the importance of pollinators.
The Bee Brick, which has moulded cavities where bees can lay eggs, provides nesting for solitary bees and is considered a simple way of helping the declining bee population.
Gemma Tovey, Lovell's sustainability co-ordinator, said: "As a responsible developer we are committed to helping to improve the areas in which we build for the benefit of whole community and this includes the local wildlife too!
"The Bee Brick is a really stylish addition to any garden and we hope that this campaign will help raise awareness of the plight of these important pollinators and inspire homeowners to consider making their gardens more wildlife friendly."
Solitary bees, such as the red mason or leaf cutter, face a dramatic decline in number due to disease, chemical use and habitat loss.
To encourage bees to gardens the Bumblebee Conservation Trust advises householders to plant more flowers, shrubs and trees and to leave areas to grow wild.
It also suggests cutting grass less often, avoiding disturbing insects and only using pesticides where absolutely necessary.
Barnaby Smith, the trust's public engagement manager, said: "Bee Bricks are great for solitary bees.
"We have a couple of hundred different species of bee and many of them are in decline.
"The key thing people can do is make a better habitat for them by planting the right type of wildflowers, and Bee Bricks or bee hotels are great for solitary bees.
"Most people think we just have the honey bee and that they just make honey but that's not the case.
"Bees pollinate a lot of the food we eat and the wildflowers which make up our landscape which is important for farming and the ecosystem."
Lochside Grange is one of a number of housing projects in development by Lovell across Scotland.
The company is building 133 homes near Kinghorn Loch, on either side of the B923, 10 of them for social rent by Kingdom Housing Association. The estate is expected to be complete by May 2021.