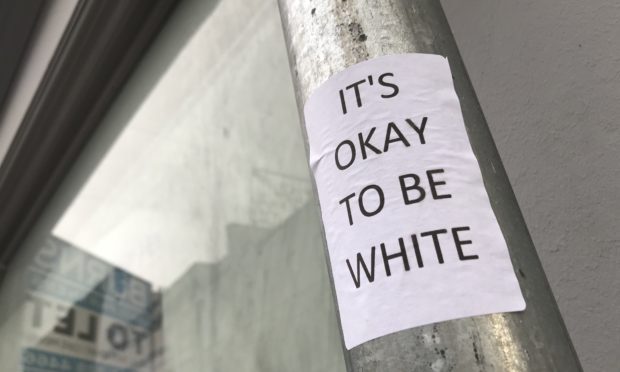 Authorities have swooped on hate speech flyers which were pasted around Perth city centre at the weekend.
The anonymous posters have been condemned after they covered pipes and posts around the city with stickers promoting the white supremacist-linked slogan "it's okay to be white."
The slogan originated around US college campuses after being coined on white pride websites as an indirect way of stirring up racial tension.
In America, the FBI have been involved in investigations into the poster campaign which exploded after being defended by a Fox News pundit on TV in 2017.
Having made its way across the Atlantic, the message was spotted on stickers in Dundee earlier this year before a batch of the provocative stickers were pasted around Perth this weekend, sparking a police probe.
On Monday, diversity charity PKAVS were amongst groups to contact police, Perth and Kinross Council and other bodies.
As part of the Safer Communities Partnership, the charity engages in a collaborative approach to tackling issues which could impact the minority ethnic communities of Perth and Kinross.
The swift response resulted in speedy documentation and removal of a multitude of stickers throughout the city centre.
Their team were amongst those peeling off as many stickers as they could find throughout the Fair City's streets.
Paul Graham, PKAVS chief executive, said: "As the key established agency supporting minority ethnic communities in Perth and Kinross, we were of course disappointed to see materials appearing in Perth which are associated with a global far right movement with white supremacist underpinnings.
"We would, however, like to take this opportunity to praise our fellow members of the Safer Communities Partnership who acted so quickly to both remove the stickers themselves and record the incident."
Perth and Kinross Council bosses said they were "very disappointed" to hear about the flyposting.
The local authority tasked its community wardens with taking the "hate speech" down on Tuesday and monitoring the situation again yesterday with further checks.
Perth City Centre councillor Peter Barrett condemned the perpetrators of the postering, branding it "a vile attempt to sow division and create fear."
He said "This is despicable hate speech. It is covert racism disguising white supremacist views. People should be in no doubt this is no innocuous joke.
"It is the thin end of the wedge and an attempt by racists to get their foot in the door. I don't want a white supremacist racist campaign to be imported from the US on to the streets of Perth."
Deputy First Minister John Swinney said the stickers were "revolting," adding: "These sentiments are completely unwelcome across our region."