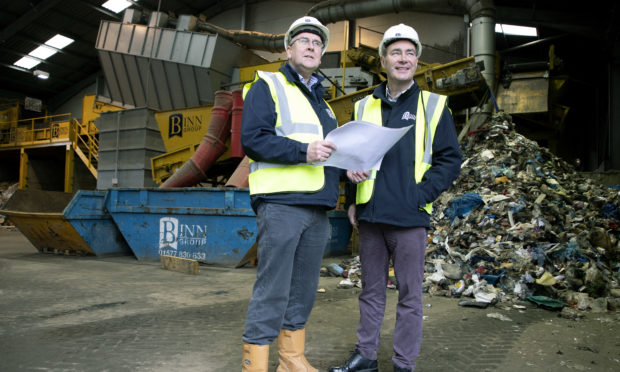 A waste management giant has resurrected plans for a £70 million incinerator near a Perthshire village.
The Binn Group is poised to table fresh proposals for a large-scale energy from waste (EfW) plant at its Glenfarg base.
A similar scheme won planning permission nearly a decade ago, despite widespread opposition from residents.
Now the company wants to increase capacity by more than 40%, from 60,000 tonnes to 84,900 tonnes each year.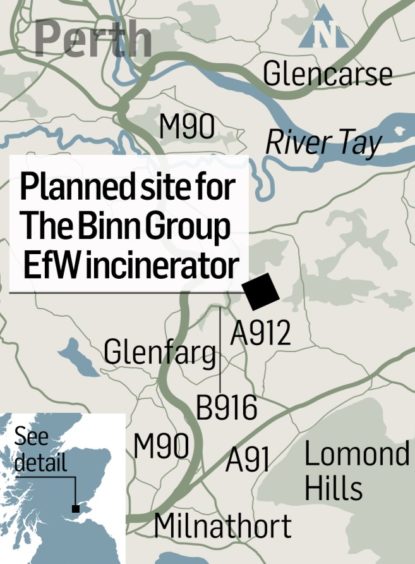 Chief executive Allan MacGregor said the expansion at the firm's 200-acre Eco Park site was crucial to meet demand for a lower carbon solution to local waste issues.
It will create about 200 jobs during construction, plus 30 permanent posts once it is up and running, he said.
"The captured electricity will feed the national grid and as a component of the energy is renewable, will contribute to the ongoing de-carbonisation of Scotland's power supply," said Mr MacGregor.
"Waste heat from the plant will be utilised to support businesses in the Eco Park and possibly for supply to nearby businesses in the local community, ensuring that there is a high level of energy use efficiency by the plant."
Mr MacGregor said a Scottish Government ban on waste being sent to landfill – expected to be enforced in the next few years – made the project more urgent.
"Too much of this resource stream is currently shipped abroad when we could process it here through a more carbon-friendly solution such as EfW," he said.
The amendment to existing planning consent does not require a consultation, but the Binn Group has said it will hold a series of public meetings to keep locals updated.
The company said studies to explore environmental and traffic issues had identified "no significant concerns".
The previous plan – originally lodged by SITA UK – attracted more than 250 objections, as well as a petition with 465 names.
Most opponents raised concerns about the potential impact on human health and the local food chain.
Objectors at the Tayside Environmental Action Group held public meetings and protested outside Perth and Kinross Council HQ against the development.
At the time, councillors backed the plan because it would help significantly reduce the financial penalty the local authority faced for having too much waste going to landfill.
Green MSP for Mid-Scotland and Fife Mark Ruskell, who was involved in the original campaign, said: "We are seeing a race to burn waste across Scotland with companies pushing multiple applications to set up these plants up.
"Public concerns have not gone away over the years, these plants are not based on any predicted need to treat residual waste, they are a cheap and dirty way to deal with what is currently not being recycled."
He said: "Once they are set up they will require on-going contracts to remain viable acting as a disincentive for councils to increase recycling further.
"In the way that waste going to landfill is currently taxed, so waste going for energy recovery should also attract a tax to reflect its environmental cost."
Brian Ritchie, chairman of the Resource Management Association Scotland, supported the revised scheme.
"This facility will provide a solution for the non-recyclable residual waste generated on site and from neighbouring local authorities and private waste contractors," he said. "As well as contributing to the infrastructure Scotland needs to take full responsibility for its own residual waste."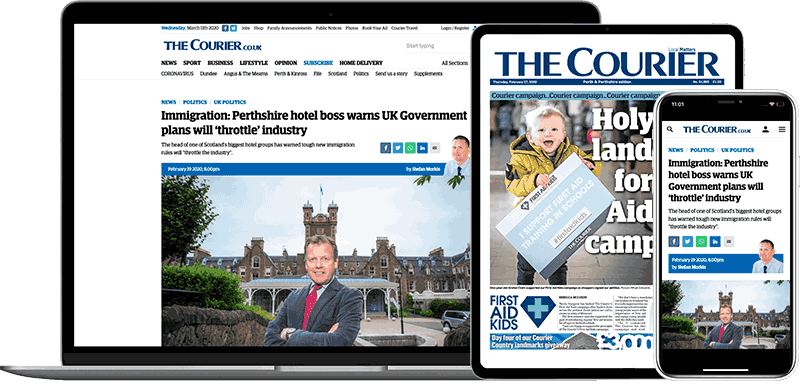 Help support quality local journalism … become a digital subscriber to The Courier
For as little as £5.99 a month you can access all of our content, including Premium articles.
Subscribe