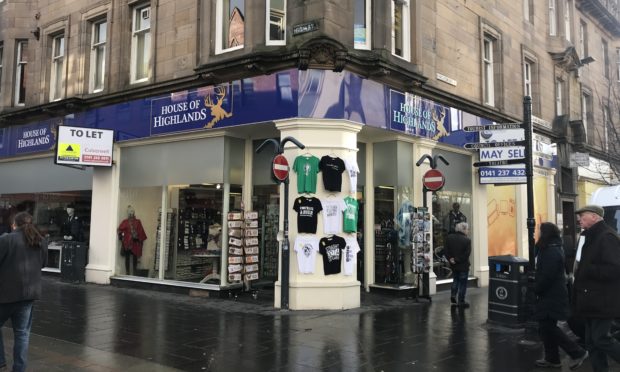 A row has erupted over plans for a new family restaurant in the heart of Perth city centre.
Businesses are battling to block the proposal for a prime High Street site close to the soon-to-be transformed Perth City Hall.
Developers have applied to convert the B-listed retail unit, currently a tartan tourism gift shop, into a 3,800 sq ft restaurant and take-away. A chimney would be installed at the back of the building to get rid of smells from the kitchen.
Glasgow-based property firm Sava Estates want to have planning permission in place for what is described as a "quality" outlet, before the lease on the House of Highlands store expires in June.
Perthshire tourism businesses invited to learn more about Perth City Hall plans
It is understood the firm, which recently took over the "at risk" King's Theatre in Dundee, has already had interest from a well-known restaurant chain, although the potential operator has not been revealed.
Project leaders say the restaurant will help the council in its mission to regenerate the city's fragile night-time economy, with a "play of light from the windows illuminating the pedestrian area" and "contributing to a sense of safety and well being."
The project faces a backlash from nearby businesses and residents, who are urging planners to refuse permission.
Perth and Kinross Council's planning department has had several formal complaints from locals who claim the former Bright House building, on the corner of King Edward Street, is the wrong spot for such a development.
Josephine Buchan, who has run neighbouring Josies' Hair Salon for more than 30 years, said: "A restaurant and hot food takeaway is not in keeping with such a prominent location in the city centre, as the surrounding area is predominantly both commercial and residential properties."
Ms Buchan has raised concerns about litter and late night noise, which could affect her trade and customers.
Alex Stewart, spokesman for Albasure Ltd and Perth Mortgage Centre, claimed the development could pose a fire hazard and that customers could start using their close as a toilet.
The nearby Denarius Investment Company has also complained. A spokesman said: "This is the centre of Perth and a commercial area, and we feel a hot food takeaway is not in keeping or in character with this part of the city.
"They say they are installing a chimney but we all know that despite this, there is always a smell from hot food takeaways. The offices and houses above would have to put up with this smell daily."
He added: "Perth has more than adequate eating establishments at the moment."
In its submission to planners, agents for Sava Estates argue: "This development will introduce a new restaurant which will animate this important corner and introduce a dynamic and active new use.
"While pedestrianisation can be a very positive element in the streetscape, to be effective it has to also contain uses and activities which will attract people into the street, particularly in the evening when the majority of retail outlets are closed and footfall declines."
Planning chiefs are expected to rule on the development in the coming weeks.