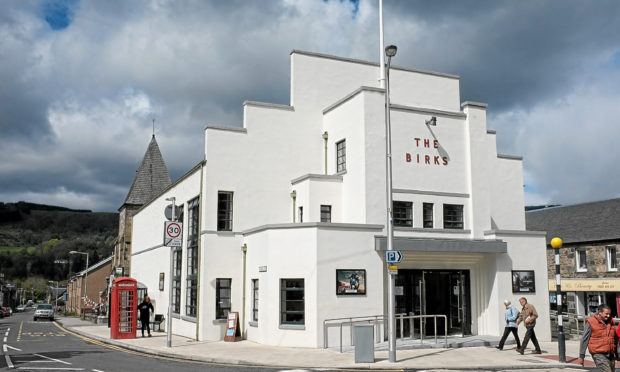 A community-owned cinema in Highland Perthshire needs to find £50,000 through a celebrity backed fundraising campaign if it is to survive the Covid-19 lockdown.
The Birks Cinema in Aberfeldy has already raised £25,000 through the appeal supported by Hollywood star Alan Cumming, Dougray Scott and poet Jackie Kay but claims it will need to double that figure to reopen after the pandemic.
The Courier revealed last month that Birks faced a financial blackhole after management were told by their insurance company their policy for business interruption does not cover it against the government-enforced shutdown.
Anna Brocklehurst, a Trust board member for the cinema, said community investment was "at the heart" of Birks' opening seven years ago and the group must once again turn to local people in the current crisis.
Perthshire cinema faces £30,000 shortfall after being told their business insurance does not cover against coronavirus
Ms Brocklehurst said: "Every penny the cinema raises and makes is re-invested in charitable work and in the cinema itself.
"Since Covid-19 the cinema has raised over £25, 000 in donations from locals, businesses and small grants but it will need to secure a further £25, 000 to re-open.
"Amongst other contributions, the Birks Cinema provides more than a dozen jobs, community programmes support 3,500 people each year to learn, share and find support where they may not be able to.
"The cinema provides a much-needed lifeline for locals, with a safe community meeting space open long hours, and access to an independent collection of film and theatre rivalling that of some of the top theatres and art cinemas in the country."
Local schoolchildren have also pledged to support the campaign and are among some of the top fundraisers while furloughed staff have raised more than £1,000 to date.
The Trust say they have tried to  access government funding and grants but many of these have not come through, and others that have are small amounts for an organisation operating at their level.
In his message of support for the campaign X-Men star Alan Cumming said: "The Birks Cinema is an amazing community cinema and I'm proud to be it's patron, but it's not just a cinema.
"It's so much more than that, providing a safe, welcoming space for many across the area and an incredible array of charitable and community projects for a huge range of individuals and groups."