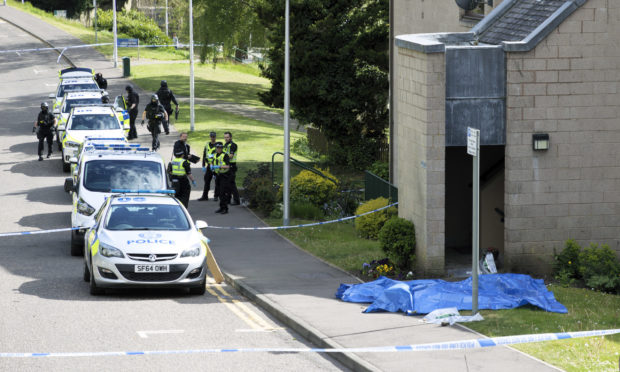 A Perth man who left a "trail of blood" in a block of flats on the edge of the city centre after being assaulted on Saturday was rushed to hospital in Dundee by paramedics.
Police and ambulance crews raced to a property on Commercial Street in Perth's Bridgend area just before 3pm after receiving reports of a disturbance.
A 30-year-old man was transported from the block of flats to Ninewells to be treated for injuries he sustained during an assault.
Eyewitnesses reported a large police presence, which included officers equipped with firearms, who quickly sealed off the premises which overlooks the River Tay.
A huge squad of officers piled out of a convoy of vans, cars and 4x4s which had descended on the city centre street and immediately cordoned off the area surrounding the flat.
Just before 8pm that evening, police revealed that two people, a 23-year-old man and a 19-year-old woman, had been arrested in connection with the grisly incident.
On Sunday afternoon, police confirmed the pair had been charged. They are both due to appear at Perth Sheriff Court on Monday, May 18.
The gory attack had spilled out onto the street, as passersby explained they could see bloodstains from the street.
Forensics teams quickly got to work analysing the bloody smears left on the stone floor in the vestibule area of the block, a mere stone's throw from the Perth Bridge.
One witness said: "There was blood everywhere. It's been sealed off now.
"Police were putting tarpaulins and bags down to cover the evidence up.
"From the street, you could see a trail of blood leading into the close at the entrance to the flats.
"Someone has to have been seriously hurt," they added.
A Police Scotland spokesperson confirmed: "A 23-year-old man and a 19-year-old woman have been arrested and charged in connection with an assault on a 30-year-old man that took place in Commercial Street, Perth, on Saturday, 16 May.
"They are both due to appear at Perth Sheriff Court on Monday, 18 May, 2020.
"The 30 year-old man was taken to Ninewells Hospital to be treated for his injuries."