Perthshire couple tie the knot after bride given only a few months to live following cancer diagnosis
A Perthshire couple have tied the knot after one of the brides was given just months to live following a devastating cancer diagnosis.
Kirsty Maxwell and Nadia Huggan got married at a moving ceremony in Alyth on Friday, surrounded by close friends and family.
Kirsty, 31, was recently diagnosed with a rare signet cell tumour in her stomach, which has since spread to her oesophagus and begun attacking her organs, meaning the couple was forced to bring their wedding plans forward.
Nadia, who wore a white dress, said the couple had an "amazing" day as she married  Kirsty who was dressed in a tartan suit.
The newlywed said: "It was a really really good day. It was amazing.
"We had a few close friends and family in the garden and we had it outside so people could social distance."
The couple were able to hold the celebration despite the current pandemic with guests all practising social distancing as they were entertained by bagpipers and music.
Locals also took to social media to wish the happy couple well on their wedding day.
One said: "Congratulations Kirsty and Nadia, hope you have had the best day ever. Sun was shining for you."
Another added: "Hope you're all having a great time, the girls deserve their special day."
The Courier understands that police were asked to check on the celebration due to the current guidelines but left content that social distancing was being maintained.
VIDEO: Alyth woman, 31, brings forward wedding and plans own funeral after terminal cancer diagnosis
The couple have also set up a GoFundMe to help raise money for Kirsty's funeral which she wants to plan to save her family the stress.
She described the experience of planning her own send-off as "surreal".
"I'm just zoned in on getting it all sorted so it's not left for my family to deal with. I'll also be able to have things the way I want but all the stressful things will have been done.
"I'm lucky in the sense that I have  the opportunity to have a few months – it could have just happened and I wouldn't have the chance to do all the things I wanted to do.
She added: "The people of Alyth have been amazing – they've raised over £6,000, which is completely overwhelming."
To contribute to Kirsty and Nadia's fundraiser visit www.gofundme.com/f/the-send-off-kirsty-deserves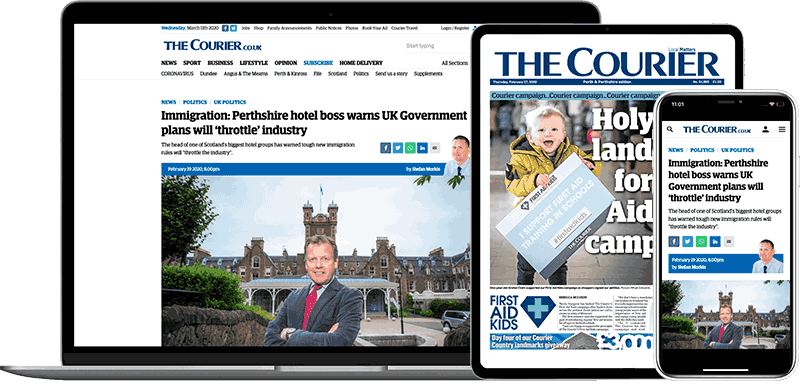 Help support quality local journalism … become a digital subscriber to The Courier
For as little as £5.99 a month you can access all of our content, including Premium articles.
Subscribe