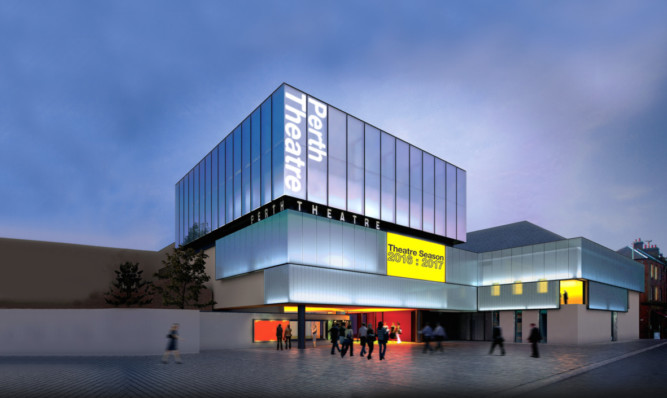 The long-standing redevelopment of Perth Theatre has marked a construction milestone.
Huge sections of the historic building were torn down to make way for a major expansion.
The £16.6million project, which is due to be completed late next year, has been described as a key part of the wider regeneration of the city.
Bulldozers demolished old workshops and rehearsal rooms at the rear of the building, exposing the original B-listed Edwardian auditorium wall which will be a feature of the new-look theatre.
The demolition paves the way for a new foyer, restaurant and bar, as well as a 200-seat studio theatre, community room and lift to all floors.
The historic auditorium, built in the late 19th century, will be meticulously restored. Walls, plasterwork, seating, flooring and lighting will be repaired and replaced and the original decorative theatre interior will be replicated. The upper circle Gods section and a new orchestra will be created.
Magnus Linklater, chair of Horsecross Arts, the creative organisation behind Perth Theatre and the concert hall, said: "We are delighted to see work starting on our new theatre.
"The demolition work at the back of the building has begun, and it is here that our exciting new premises will emerge."
He said: "When the new Perth Theatre opens its doors towards the end of 2017, our audiences will find a theatre that they will recognise immediately, but which has been completely redecorated and restored, opening into a magnificent new building, with its entrance on Mill Street, in which they will find every modern facility that a 21st century theatre should have. It is a theatre that Perth will be proud of."
Horsecross Arts, which is behind the redevelopment, has already been pledged £15.1 from various sources including Perth and Kinross Council.
Chief executive Gwilym Gibbons said good progress was being made to secure the remaining £1.5million.
"All the money raised goes straight back into supporting our arts and creative learning programmes, not to mention the broader economic benefits to the surrounding area of attracting top organisations and business visitors to Perth," he said. "This extra flexibility will prove an enticing prospect to our many corporate clients, helping us increase earned income and reduce reliance on public funding."
Council leader Ian Miller, who is also project board chairman, said: "The transformation of Perth Theatre is a key part of the council's aim to develop a cultural quarter for Perth city centre, so it is very exciting to see first-hand the start of work on this major project.
"On completion, the theatre will be ready for many more years of entertaining and enthralling audiences of all ages and interests."
Next month, Horsecross Arts will host a drop-in session to let the public hear more about the development and the ongoing fundraising drive.
Part of Perth since 1899
Perth High Street became home to Perth Theatre in 1899.
A time capsule buried in the foundations included a copy of The Courier from October 4 of that year.
The building boasted an 800-seat auditorium, set out in a style typical of the Victorian era.
However, the venue was badly damaged by fire in 1924.
The restored theatre was bought 11 years later by Marjorie Dence and David Steuart, who opened the first repertory company in Scotland.
In the first three years 144 plays were performed and in the following 50 years more than 1,000 plays were produced.
Marjorie Dence died in 1966 and the theatre was left to the Scottish Arts Council.
Some famous faces have graced the stage at Perth including Donald Sutherland, John Laurie, Una McLean, Russell Hunter, Lesley Mackie, Colin McCreadie, Edith McArthur, Elaine C Smith, Andy Gray, Edward Woodward and, perhaps most famously, Star Wars actor Ewan McGregor.