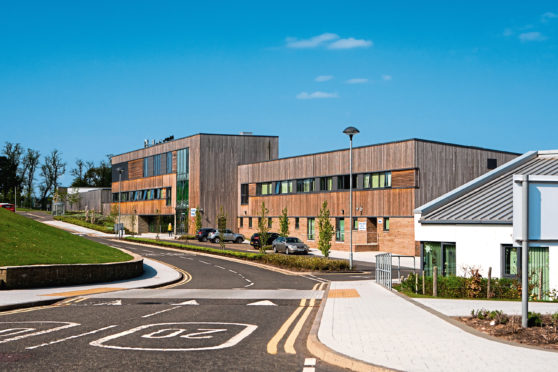 A grieving mother has urged health chiefs not to ignore a new scathing review of management at Tayside psychiatric services, claiming there has been little or no improvement since her daughter took her own life more than four years ago.
Former gala queen Rebecca Sangster was a patient at Murray Royal Hospital when she died of hanging in October 2015.
The 31-year-old's death came after Tayside Health Board failed to respond to a previous warning about ligature points on furniture and fittings in the Moredun Ward where she  was staying.
Last week, The Courier revealed details of a new review of local mental health services which showed that patients with suicidal thoughts were regularly delayed access to appropriate treatment.
Rebecca's mother Ann, from Abernethy, has now called on NHS Tayside to take action on the latest findings by Healthcare Improvement Scotland (HIS).
She said: "It is four-and-a-half years since our daughter's death while under the care of NHS Tayside and it would appear from this report that little has changed in the management of mental health services in Tayside in this time."
Ann, who is suing the health board over her daughter's death, said: "This is yet another report covering and raising similar issues that have been brought to NHS Tayside's notice time and again, over a number of years.
"I cannot help but wonder if this recent report is to join previous reports on an unknown shelf in an unknown office to be joined by a similar report next year."
She said: "The important issue is when will NHS Tayside take positive timely actions to resolve these matters."
Just before the country went into lockdown, Tayside Health Board admitted criminal responsibility for the death of Rebecca, and two other woman at Murray Royal Hospital between 2012 and 2015.
Perth Sheriff Court was told that "robust" and "radical" improvements had since been made at the ward.
But Sheriff Lindsay Foulis said: "It should not have taken three deaths for that very significant review to be undertaken."
The publication on Thursday of the HIS review followed the release earlier this year of the findings of an independent inquiry led by Dr David Strang, which called for a radical redesign.
The HIS report said community mental health teams were regularly accepting referrals of patients with "vague suicidal thoughts" when they may have been better being sent to third-sector organisations or primary care services.
It called on NHS Tayside to resolve management issues as a top priority.
A spokeswoman for the health board declined to comment on Mrs Sangster's comments specifically, but said: "We will now ensure that the actions and recommendations set out in the report are progressed through the improvement work already under way across mental health services Tayside."
A life tragically cut short
Rebecca Sangster and her twin brother Tom were born just days before Christmas 1983. The family described the birth as a "surprise special delivery" with no one expecting twins.
In fact, they were the first set of twins to be born at Peterhead Cottage Hospital for 20 years.
The family moved to Abernethy in February 1988. Rebecca had a very happy childhood, attending local brownies and guides and enjoying past-times like judo, mini-curling and camping.
In 2002, she fulfilled one of her childhood wishes to become a princess when she became Abernethy Gala Queen.
She trained as a nurse at Perth College, before deciding it wasn't the career for her, and worked in the retail sector.
Around the same time, she won a letter of commendation from the police for coming to the rescue of an elderly neighbour.
Rebecca later moved to Dunfermline to study at Lauder College, where she was named student of the year for jewellery studies.
She went on to work for the Royal Bank of Scotland until 2008, when she moved back to Abernethy to be with her parents.
Despite failing health, she completed an HND in jewellery design at Springburn College, Glasgow in 2015.
In early October that year, she went to her GP for help and was detained under the Mental Health Act and taken to Murray Royal Hospital.
She died in her room at the Moredun Ward just over three weeks later.
During March's court hearing, Depute Fiscal Shona McJannett took two hours to read the 27-page narrative describing the hospital's failings.
She said: "One of the most effective ways to prevent suicide is to reduce access to the means of achieving that outcome. The risk of suicide is well known in healthcare.
"One of the primary means of tackling the issue is to identify and remove ligature points. The management of ligature anchor points by Tayside Health Board within the Moredun Ward was chaotic."
Miss McJannett said a fatal accident inquiry – attended by NHS Tayside – several years earlier found that Michael Dodds had hung himself from a 'King's Fund' traditional hospital bed.
"Accordingly, the risk associated with ligature anchor points on the beds was known to the health board since 2009, if not before," the prosecutor said.
"Despite this, in April 2012, 52 brand new Kings Fund beds were purchased by the NHS Tayside Commissioning Office for use in Moredun ward prior to the opening of the hospital."