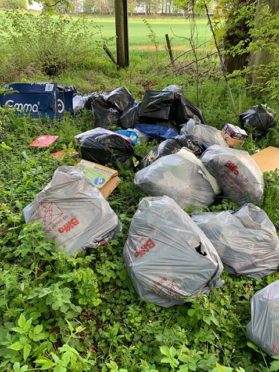 The number of flytipping incidents reported to Perth and Kinross Council has more than doubled over a five-year period.
In 2014, there were 490 cases of flytipping reported to the council.
By 2019, this figure had rocketed to 1190. The number of reported incidents increased almost every year during that time period.
Scottish Conservative councillor, Angus Forbes, who represents the Carse of Gowrie ward said the figures highlight the need for a "tougher approach" to the issue.
He said: "Those figures explain why we need to take a tougher approach to flytipping, which Perth and Kinross Council have been doing recently and will continue to do so.
"Flytipping is a blight on our countryside and it seems that only fines and tougher enforcement will be the answer."
One incident in May at a remote roadside spot between Scone and Glendoick was described by Councillor Forbes as "easily" the worst case he had ever seen.
Also in May, flytipped waste found near Knapp was traced back to a Dundee resident after details of their address was found among the rubbish.
In early January, rats were spotted among rubbish that had been untreated in an alleyway connecting High Street and Skinnergate in Perth, despite numerous complaints.
Figures released in August last year revealed, despite thousands of complaints since 2010, no-one in the area had been held accountable for any cases of flytipping.
Perth and Kinross Council said information on the cost of flytipping "is not held".