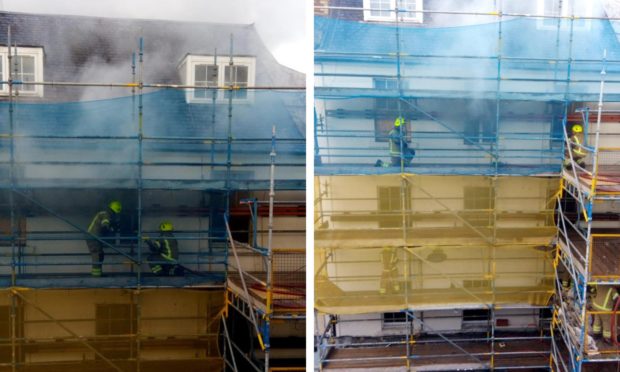 Around 20 people were evacuated from a popular Perth city centre pub on Friday night after a fire broke out in the flats above the bar.
Emergency services rushed to The Venue on St John's Street shortly before 6pm after witnesses saw smoke billowing from the abandoned living quarters.
The fire is the second disaster to strike the well-know late-bar this year after a chimney collapsed onto the roof in February, putting large parts of the pub out of commission.
Glen Hansen, who lives in flats opposite the building, saw firefighters scale the scaffolding at the side of the building to reach the higher floors that were ablaze.
He told The Courier: "There was flames coming out of the windows at one point.
"There was just a big billow of smoke coming out of the first floor.
"At the start there was a lot of shouting, people were scrambling to get out (of The Venue).
"There was incredible smoke at the beginning.
"The fire brigade got here pretty quickly.
"If they were two to three minutes later it would have been a much bigger issue."
A second witness who was in the bar at the time of the fire told The Courier: "The fire is at the front of the building in the uninhabited flats. I believe it's one of the front flats.
"It looks like an electricity fire. There were maybe 20 people evacuated."
Emergency services rushed to the scene of the blaze shortly before 6pm with police setting up an emergency cordon around the building.
The Scottish Fire and Rescue Service sent six appliances, including two main jets and an aerial platform.
In February three people were hurt and more than 80 were evacuated from The Venue after a chimney breast from a neighbouring building fell onto the roof.
IN FULL: Revellers 'millimetres' from death as Storm Ciara causes roof to collapse at Perth venue
Large chunks of masonry fell to the ground below missing patrons by inches with the incident causing large sections of the pub to shut.
The fire appears to have begun in the abandoned flats damaged in the previous incident.
'I thought I was trapped': Woman relives 'surreal' moment chimney fell through her roof as Perth bar prepares to reopen