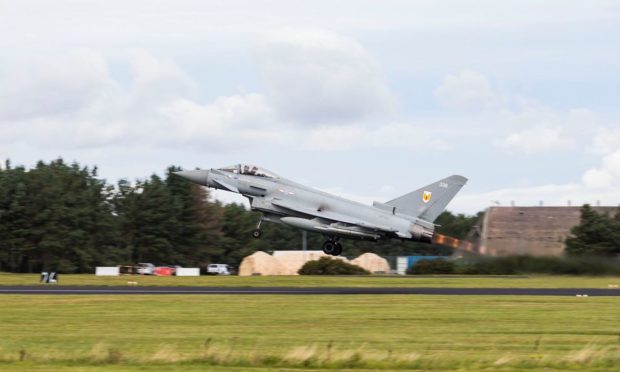 Hundreds of people reported hearing a huge bang across Perthshire on Monday evening as RAF Typhoon jets were scrambled from the air force's base in Fife.
The RAF was forced to launch Quick Reaction Alert Typhoons from their temporary base at Leuchars Station in response to Russian military aircrafts operating within Nato's airspace.
Two unidentified aircrafts were tracked as they entered the northern Nato air policing airspace resulting in the Royal Norwegian Air Force scrambling F-16s to intercept and identify the planes.
The Norwegian jets identified the aircrafts as two Russian long-range supersonic bombers – Tu-160 Blackjacks.
As the Russian bombers continued to fly towards the UK, RAF Lossiemouth launched their own Typhoon jets from the Fife base along with a Voyager tanker from RAF Brize Norton.
A spokesperson for RAF Lossiemouth said: "As our Typhoons routed onto target, the two Tu-160 Blackjacks turned north away from the UK.
"QRA Typhoons remained in the area to deter any further activity near UK airspace.
"We always take every potential airborne threat to UK airspace very seriously.
"The incident has now concluded and all aircraft are ready for their next scramble, wherever and whenever it may be.
"It was a successful mission for all involved, both within the Raf and within the NATO alliance.
"We are always ready in our enduring mission of securing the skies."
Reports of a huge bang, believed to be the sonic boom of the Typhoon jets, were heard from as far a part as Crieff, Perth and Aberfeldy as the fighter planes took to the sky.
Jean Douglas Armstrong, from near Pitlochry, said: "The earth shook up in Glengoulandie."
Rolland Ballard added: "I'm in Strathtummel and our windows shook and all the birds took flight."
Monday's flight is the second time in three days RAF planes have been launched from the temporary base in Fife.
On Saturday morning Typhoons were also launched after two Russian Tu-142 Bear F aircraft approached UK airspace.
The launch was the first live scramble from Leuchars Station where Quick Reaction Alert for the north has temporarily relocated while the intersection of runways are resurfaced at RAF Lossiemouth.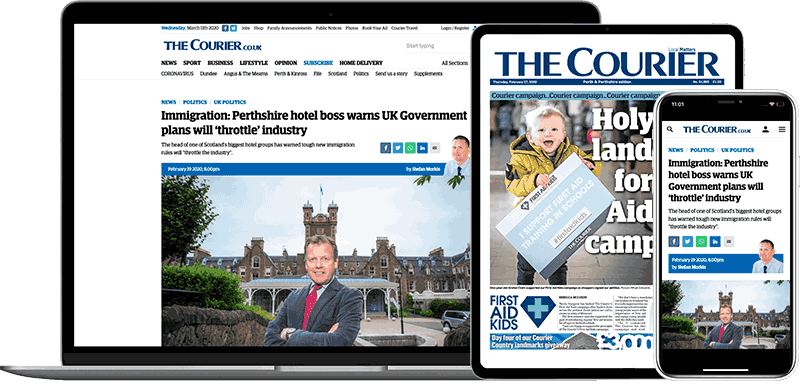 Help support quality local journalism … become a digital subscriber to The Courier
For as little as £5.99 a month you can access all of our content, including Premium articles.
Subscribe