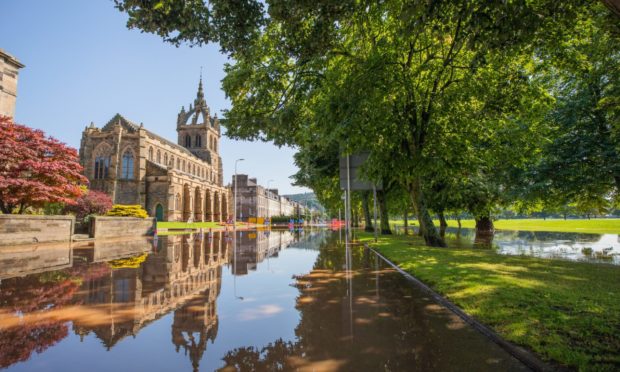 Cameras will go underneath flood-hit Perth as part of an extensive examination of the city's sewer network, amid claims the system is not fit-for-purpose.
The £55,000 CCTV survey aims to identify problems with the current set-up after large swathes of the county were left swamped by torrential downpours earlier this summer.
The worst affected areas included South Inch and Craigie, with rising water levels also causing alarm in rural areas such as Alyth and Forgandenny.
Residents raised concerns about the capabilities of the region's drain infrastructure after the Fair City was drenched in 86.4mm of rain in one 24-hour period.
Perth and Kinross Council has struck a deal with Blantyre firm UIS (Underground Inspection Serves) to carry out the work.
According to the contract, the company will be required to use cameras at culverts, surface water networks and sewers at various locations.
The project will involve traffic management, and possibly temporary road closures, at each site.
Any identified blockages will also be washed away, but only if safe to do so.
The UIS crew will draw up a report on routes and pipe conditions, including video footage and photographs.
A council spokeswoman said: "The sewer study consists of various CCTV camera surveys – and water jetting – to investigate and clear various culverts and drains which caused problems during the August 12 flooding."
She said: "It's not only related to the South Inch where there may have been some drainage outfalls from the flood storage area into the Craigie Burn.
"It also includes Wallace Crescent, Crieff Road, Windsor Terrace and Low Road in Perth.
"Locations in Aberfeldy, Forgadenny, Alyth and Marlee Loch Residential Park are also being looked at."
There were calls for urgent upgrades of drainage infrastructure in the wake of August's floods.
Local Tory MSP Murdo Fraser said: "There are fears that the drains are not fit for purpose to deal with increasingly severe weather patterns which we are encountering these days, and also there are worries that the drains are not properly inspected or maintained."
A Scottish Water spokeswoman said: "The severe storm that affected Perth in the early hours of August 12 was significantly in excess of the capabilities of all urban drainage systems, including the sewer network that Scottish Water operates and maintains.
"Both the sewer and storm pumping stations, which serve the main trunk sewer in Perth at South Inch, were operating at full capacity during the time of the storm."