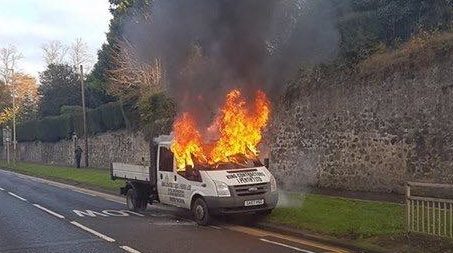 A Perth grandmother has been hailed a hero after pulling an 18-stone former soldier from a burning van.
Contractor Martin Wotherspoon, 41, suffered burns when he was trapped by his seatbelt as his vehicle caught fire at 9.15am on Friday in Dundee Road, Perth.
However partner Aston Abbott, 28, said the injuries could have been far worse if it wasn't for the quick thinking of Good Samaritan Mahrie Rae.
Posting on social media, Aston praised the brave actions of the 54-year-old.
She said: "She saved his life – we are so grateful. It was disturbing when I first saw Martin because his face is in such a mess.
"There's a lot of mental damage as well, he was having nightmares about it last night. He thought he was going to die.
"Another 10 seconds in there and he would have died. We are just lucky that lady came at the right time."
Rush-hour commuters had watched in horror as the incident unfolded just minutes after children had gone into Kinnoull Primary School.
Mr Wotherspoon was briefly trapped in the burning van and sustained injuries to his arms and face.
He was taken to Ninewells Hospital, Dundee, where it's believed he will remain for at least another week to receive medical treatment.
Ms Abbott had said she didn't recognise Mr Wotherspoon at first due to the extent of his burns.
"His face looked a bit melted and it's purple," she said.
"I burst into tears because it didn't look like him.
"One hand has all the skin taken off, the other hand is okay. He's got burns and no hair – it's singed his face.
"His beard and eyelashes are gone. He's got to get his eyes tested and his lungs checked as well.
"He's traumatised – I think he's more in shock than anything."
Ms Rae said she didn't wish to comment on the incident when contacted by The Courier.
Pete Chan, who co-owns the China China take-away in Craigie, Perth, showed his generosity by providing hot food to the family at the weekend, while they were visiting at Ninewells Hospital, Dundee.