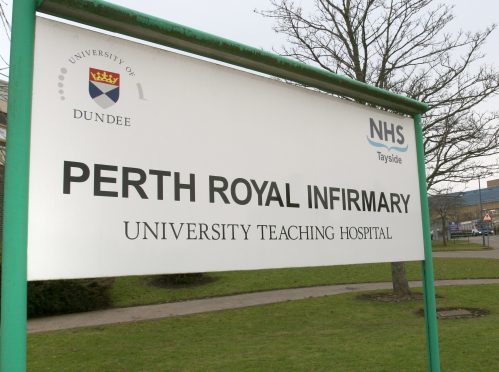 Whistle-blowers have accused health bosses of covering up the true scale of staff shortages at Perth Royal Infirmary.
Health care providers at the 270-bed site fear it is only a matter of time before the situation leads to a patient death.
In a letter to The Courier, a group of senior staff nurses – who do not wish to be identified – slammed claims by Dr Alan Cook, NHS Tayside's medical director for the operational unit, that patients are being cared for in the safest environments following the introduction of "interim contingency measures".
The hospital has been forced to merge wards and cancel surgical procedures due to a lack of staff.
The nurses, who have been backed by the Royal College of Nurses (RCN), stressed they were striving to maintain professionalism but were struggling in the face of conditions, with morale at "rock bottom".
They said: "Working conditions are atrocious. Many nurses are unable to go to the toilet, obtain a drink of water and meal breaks are regularly forsaken in an attempt to manage the workload.
"We do not have a magic wand but we are so angry that managers continue to cover up the true picture of the reality on these wards.
"The stark reality is that care is inadequate, unsafe and at times dangerous to the point that it is only a matter of time before a patient is fatally harmed."
Issues raised by the group include qualified but inexperienced staff being left in charge of wards, staff from unrelated specialisms being drafted in to provide cover, patients being given beds in other wards and drugs being given later than scheduled due to lack of staff.
RCN senior officer Bob McGlashan said: "Staffing is a big issue. There is a shortage of nursing staff across Scotland and the reality in many areas, including at Perth Royal Infirmary, is that nurses want to do their very best for their patients, but rising demands on our health and care services and a shortage of nursing staff mean that the hospital and the staff who work there are under pressure like never before.
"Change is needed and there have been some significant adjustments to the bed numbers in wards 3 and 6 at PRI to try and alleviate staffing and patient safety concerns."
However senior management staff hit back at the claims, saying doctors and nurses provide excellent care on a daily basis.
The Clinical Lead for Medicine at Perth Royal Infirmary Dr John Harper said: "As a frontline clinician I spend my working life on Wards 3 and 6 at PRI directly delivering care and, therefore, I feel I am well placed to share the reality of the day-to-day workings of the hospital. Firstly, I would like to absolutely reassure our patients that we are providing safe, high-quality care here at PRI.
"It would be fair to say that these are challenging times for everyone working in hospitals in terms of the demands on our services and the increasingly complex patients that we care for, not just in PRI or in Tayside hospitals, but across the country. However, the claims in the letter relating to patient safety simply do not reflect the high standards of care which the ward teams, both doctors and nurses, deliver every day here at PRI."