The Tayside producers of an unusual snack made for the Chinese market have not ruled out it hitting the shelves of UK shops.
The first batch of Mackie's of Scotland's new strawberry-flavoured crisps will soon be on the way to Shanghai after samples proved a huge hit at the SIAL China Trade Show in the city last month.
And yesterday residents of Scotland's soft fruit capital, Blairgowrie, had their say on the unique delicacy after The Courier got a hold of an exclusive bag of some strawberry samples.
The fruit-flavoured crisps were launched alongside a salted caramel blend specifically for the Chinese market.
They should be on sale in the country by the end of July after proving a "massive success" at the Shanghai show.
Initially the premise started out as an April Fool's Day joke by staff at the Mackie's at Taypack factory in Errol.
However the idea was quickly developed as the company noted the "sweet tooth" of the Chinese market.
Commercial director at Mackie's of Scotland, James Taylor, said the firm had not ruled out giving the strawberry and salted caramel crisps a go in the UK as well.
Mr Taylor added: "Strawberry and salted caramel were what was shortlisted after trying a wide range of different flavours from banana and chilli to banana and honey.
"It is just something completely unusual for the UK market but out in China it just seemed to be something that worked. You name it they have pretty much got it in any kind of sweet flavour.
"It's something completely different to us, something new to us, and something we wouldn't ever have necessarily wanted to launch as a first-off in the UK.
"The product is developed and ready to go. We've had small local cafes and delis  (in the UK) all quite interested in it, to some of our larger retail customers saying they wouldn't put it past ever putting it on their shelves.
"Who knows, we'll have to test the water in China and if it does prove to be really successful maybe adapt it and see if we can do a limited edition or special buys in this country just to give the consumer here the chance to pick them up."
Blairgowrie technical writer, Andy Meeson, said he could get "seriously addicted" to the strawberry crisps.
He added: "That is unusual because you do get the strawberry flooding out, it starts off tasting very much of strawberry and then it starts to taste of crisp."
Chloe Gruneber-Mackenzie, a student from the Angus town, said they were "unusual but kind of nice", adding: "It tastes like strawberry ice cream but in a crisp. I think I would buy that actually."
Retired Perth software engineer, Rob Burke, 65, said: "I think they are nice. I don't know I'd eat them every day but they're not bad. It does actual taste like strawberry."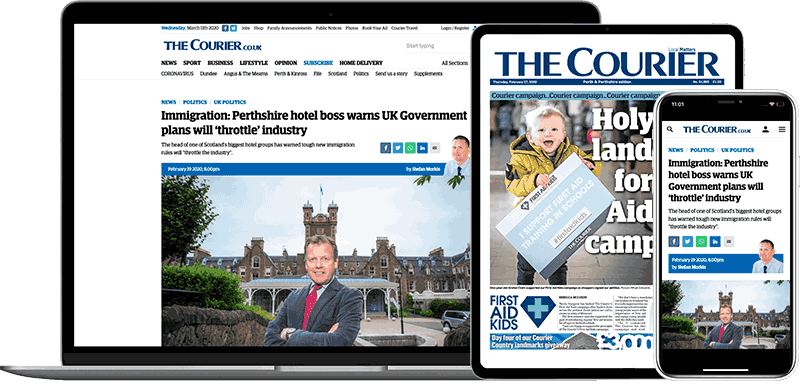 Help support quality local journalism … become a digital subscriber to The Courier
For as little as £5.99 a month you can access all of our content, including Premium articles.
Subscribe